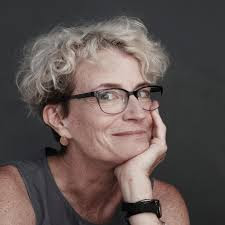 "YO, IS THIS AGEIST?"  with Ashton Applewhite
WATCH THE CONVERSATION BELOW
You certainly know what racism and sexism are. Although we still have a long way to go, we in the Western World have made real progress challenging discrimination against people of other races and moving towards equal rights for women in a (still) patriarchal setting.
The term "AGEISM" was coined in the 1960s, at the same time as "racism" and "sexism," and refers to discrimination and stereotyping on the basis of age. Ageism is the last socially sanctioned prejudice—framed as "normal," or "just the way things are"—the way racism and sexism were viewed not that long ago. Like all social change, confronting ageism starts between our ears. What ideas about aging have each of us internalized without even realizing it? Where have those ideas come from, and what purpose do they serve? How can we work together to make ageism as unacceptable as these other forms of prejudice?
Ashton Applewhite takes on the battle against AGEISM. She points out when we are engaging in ageist ways of thinking and behaving, and how we can change our attitudes and take that change out into the world. And it is not only about OLDER people. AGEISM AFFECTS EVERYONE. Think about it just for a moment: when's the last time you assumed someone was "too old" or "too young" for something—a task, a haircut,  a relationship—or that someone judged you on the same basis?
Be curious about what Ashton Applewhite will share with us in this live broadcast!
Here you can access Ashton's Keynote speech at the UN on October 6th.
Click on the links below to find Ashton's Books on Amazon
This Chair Rocks: A Manifesto Against Ageism
Ashton Applewhite - This Chair Rocks on AMAZON
Cutting Loose: Why Women Who End Their Marriages Do So Well
Ashton Applewhite - CUTTING LOOSE on AMAZON
This live broadcast was streamed on November 18th 2016
Author and activist Ashton Applewhite is the author of  This Chair Rocks: A Manifesto Against Ageism. Ashton has been recognized by the New York Times, National Public Radio, and the American Society on Aging as an expert on ageism. She blogs at This Chair Rocks, has written for Harper's, Playboy, and the New York Times, and is the voice of Yo, Is This Ageist? Ashton speaks widely, at venues that have ranged from universities and community centers to the United Nations. She has been named as a Fellow by the Knight Foundation, the New York Times, Yale Law School, and the Royal Society for the Arts. In 2016, Ashton joined Next Avenue's annual list of 50 Influencers in Aging as their Influencer of the Year.  Her work is a call to wake up to the ageism in and around us, embrace a more nuanced and accurate view of growing older, and push back against the forces that frame it as decline. Ashton is a leading spokesperson for a movement to mobilize against discrimination on the basis of age. 
Please write your comments below!
The Topics of the Conversation
Time Stamps
00:02 introductions
04:27 What does "Yo, is this ageist?" mean?
05:46 What's the history of the term? Robert Butler, 1968
06:38 When and how did you (Ashton) get interested in this topic?
09:18 Is fear of Ageing rooted in Fear of Dieing?  NO!
10:58 Our hanging reluctance to talk about i.e. the Slow Death Movement
12:25 "Autonomy requires Collaborators." No lone cowboys!
14:05 "I force myself to ask for help…" and the role of shame
AND giving
14:58 Interjecting a definition of Ageism and consumerism
16:55 A counter narrative is emerging
17:52 Becoming a burden vs. wanting to stay alive
20:56 Turning 30! Declines? Physical, cognitive.
22:46 Respecting wishes!  Ulterior motives
24:30 Ageing is a natural process, not a pathology!
25:05 Myths that are used to propel Ageism. What is and isn't ageism?
27:20 The accumulation of social capital!
29:40 The purpose of all isms is…
31:20 Judgement around older women especially and the first discrimination that white men meet
35:00 How we (especially women) hold on to power
36:38 How do we change all this?
38:56 "Old men's " behavior?
41:28 Conflicting interests re: older people's wishes
43:40 What can people both collectively and individually
46:50 Politics!  No one mentioned age! But still optimistic
51:10  Bubbly to bring the broadcast to an end. Personal comments.
53:01 Biggest obstacle to having a goal: Structural Ageism!
56:20 Good bye's and thanks!