OUR FIRST COMMUNITY LIVE CONVERSATION – about AGEING
Hear our presentation at the INTEGRAL EUROPEAN CONFERENCE in Hungary,
May 6th, 2016
We were pleased and grateful to witness a lively interest in the topic.
You are invited to join the discussion by filling in the survey above and by joining our Facebook Group http://bit.ly/integralageing
Hear our pre-conference talk about what we will be talking about on May 6th, 2016 in Siofok/Hungary.
IEC-Ageing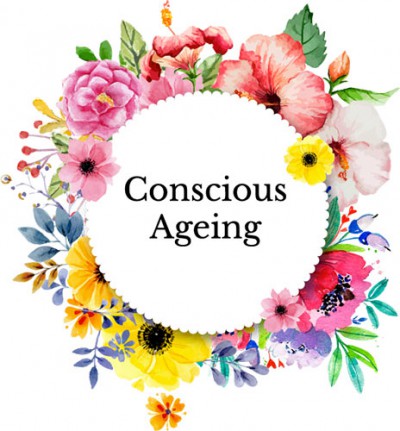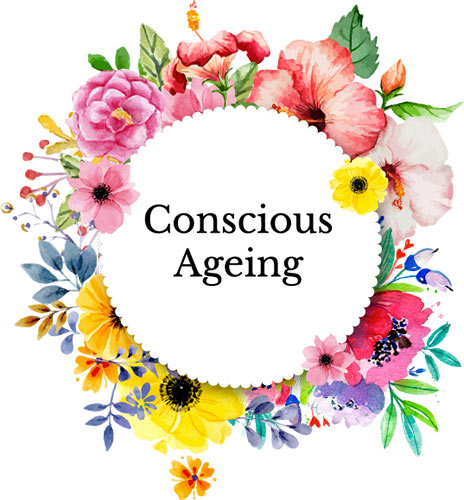 Conscious Ageing at the Integral European Conference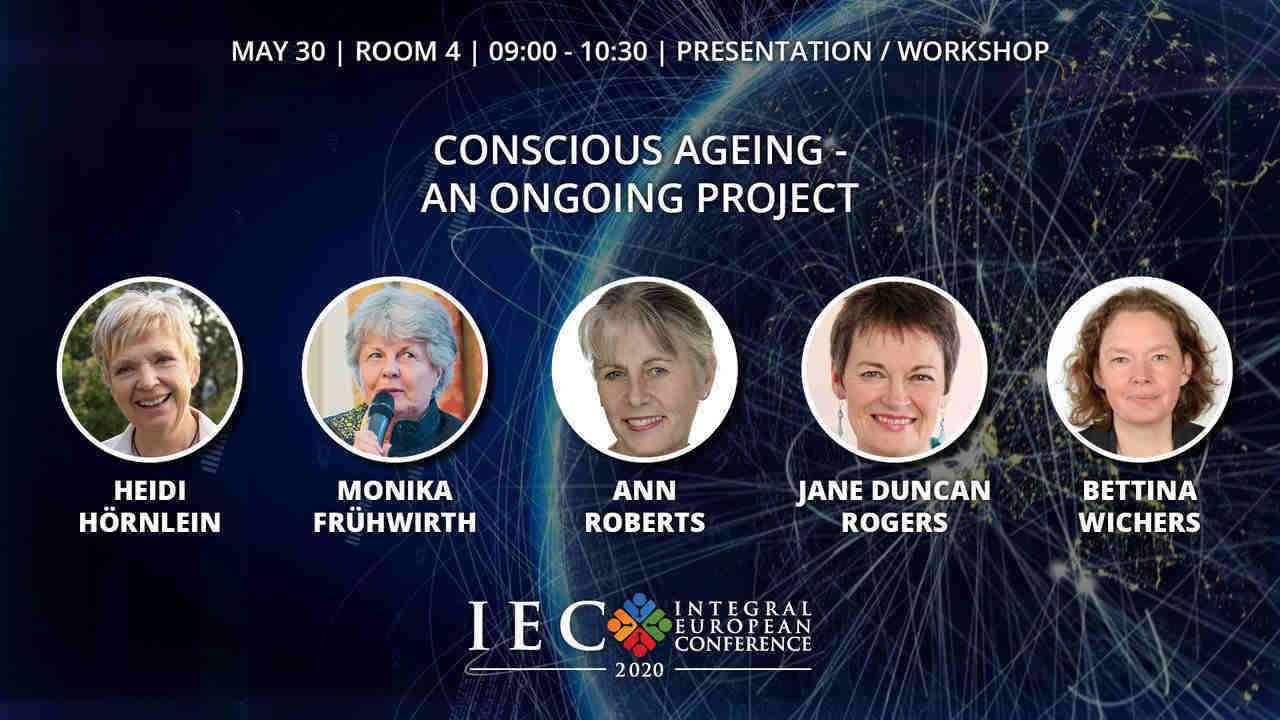 Heidi invited some guests of the series CONSCIOUS AGEING at the Wisdom Factory to be part of a panel workshop at the Integral European COnference 2020 which took place online in May because of the Corona restrictions which didn't allow the live and in person Conference in Hungary.
HEIDI´S INTRO
Four years ago, after Mark's talk at the Integral European conference 2016, we have created together the series "Conscious Ageing" at the Wisdom Factory.We have hosted around 60 guests who shared their perspective on Ageing and how to do it consciously.
Ageing and dying is still such a taboo topic, the more I was pleased to see quite a lot of people early in the morning to attend my Conscious Ageing Contribution at the conference which had to be online this year because of Corona.
When I talked about the history of the series and then showed the picture of Mark's grave stone with the spiral engraved in white marble, the tears came up again. It is 2 years ago that he had to leave his body, but the grief is still there. I believed it had passed now, but the connection had continued and obviously also the grief that it is no more in a tangible way.
Jane Rogers acknowledged the grief. She has developed the "before I go" solutions after her husband died and she realised how important it is to leave directions for those who have to deal with our funeral and the stuff we leave behind. Despite the serious topic she managed to talk about it lightly and with humour and was well received by the audience.
Bettina Wichers gave a short overview on how Dementia can be seen through the integral lens. Today it is mainly seen as an illness which needs fixing – or remains unfixable. But there are many more dimensions to it, especially how to handle people in the different stages of theor spiraling down to beige, in ways that it is best for them and for the people around.
Ann Roberts talks about "Adulthood II", the new emerging stage in peoples' lives between retirement and old age, when they are full of energy and willing and able to create something new in their lives, often less oriented to achieve something, but more understood as a service to a cause or other people.
Monia cancelled her participation. She was invited to an 80-year birthday party lunch of a friend who she fears to not have around any more for long. Being almost 80 herself she felt she couldn't do bothe, one after the other, and she decided to care for herself by freducing the stress which would have come up doing everything in the same morning. – A practice of conscious ageing!
Several people in the audience spoke up, talked about their own attitude towards their ageing or the processes they went through when being with a parent until death. A very intimate atmosphere arose in these 90 minutes we were together online on video.
This event was an encouragement for me to continue the work which was so dear to Mark's heart: Conscious Ageing, Conscious Dying. He himself certainly was an example of both.
Heidi Hörnlein
Born in Germany, MA in Berlin, in Italy for 30 years, Voice teacher and
therapist. Licensed Counselor and Coach and Host of audio and video
podcasts since 2013.
University studies in Mathematics, Physics, MA in Linguistics. Parallel
studies in singing. Employment in a professional choir RIAS Berlin. 5
years of study of voice and music in Rome. Self-study and meeting Integral
theory led to developing "Integral voice training". License in Gestalt
Counseling and different Coaching approaches. Live broadcasts and
video recordings with Mark Davenport in The Wisdom Factory on
Conscious Ageing and other topics.
Ann Roberts
Ann's exploration of Conscious Ageing began in 2015 when after a 35 years career in organisational, team, and personal development, she retired from Police Scotland as a Leadership Development Consultant. She is now exploring Conscious Agers via an initiative called Active Wisdom: An Inquiry into our Elderhood. Ann is particularly interested in adult development opportunities within the life cycle stage of Elderhood that arises from the possibility of more freedom, more time, and more potential for exploration. In 1996 Ann first encountered an indigenous Mayan body of Teachings that, over the years, she has woven its tools and protocols with her love of Integral Theory. Ann lives in a village just south of Edinburgh in Scotland.
Jane Duncan Rogers
Jane Duncan Rogers is an award-winning Life and Death coach who
helps people prepare well for the best ending of life possible.
Having been in the field of psychotherapy and personal growth for more
than 25 years, she is also the author of Gifted By Grief: A True Story of
Cancer, Loss and Rebirth, and Before I Go: Practical Questions to Ask
and Answer Before You Die. She founded Before I Go Solutions in 2016.
Read her full biography on her other website: www.giftedbygrief.com
Monia Frühwirth
Born in Vienna, November 1941. Trained as a translator at the University of Vienna. Married since 1965, two daughters,
three grandchildren. Lived in New York City for 9 years, studied, and practiced Kundalini Yoga and comparative religions
after experiencing cosmic consciousness in 1973. Further training in Buddhism for the West, Gestalt therapy according to
Rebillot, shadow work. Since 2001 actively involved in the German-speaking integral scene, chief editor of the integrale
Perspektiven, the founder of the Integrale Frauenfeld, organizing integral activities in Vienna.
Bettina Wichers
Bettina has a scientific degree in gerontology (M.Sc.) and adult education (Dipl.) and works as an integral coach for consciousness development and as a freelance consultant in the field of health, ageing and dementia.
She refers in her work to the Integral Methodological Pluralism (Ken Wilber) as metatheoretical framework and to Spiral Dynamics, the Stages model of Terri O'Fallon, the developmental research of Susanne Cook-Greuter, Roman Angerer and John Kesler. For many years, based on an intensive phenomenological practice, she has been doing research on the causes of what is described as regression in dementia and has been looking for the involutionary impulse for it. With Terri O'Fallon, she is currently working on a study of how dementia is constructed and experienced at the different stages of Terri's Stages model. Together with Roman Angerer, she is developing different experimental formats in the German-speaking integral community to open the transition from the autonomous-integral stage to the stage of construct awareness.
In May 2018 she presented her work at the Integral European Conference in Hungary. She is leading an Integral Salon in Göttingen, Germany, and is a member of the HeilOrt community, an integral health project in Bad Belzig, Germany.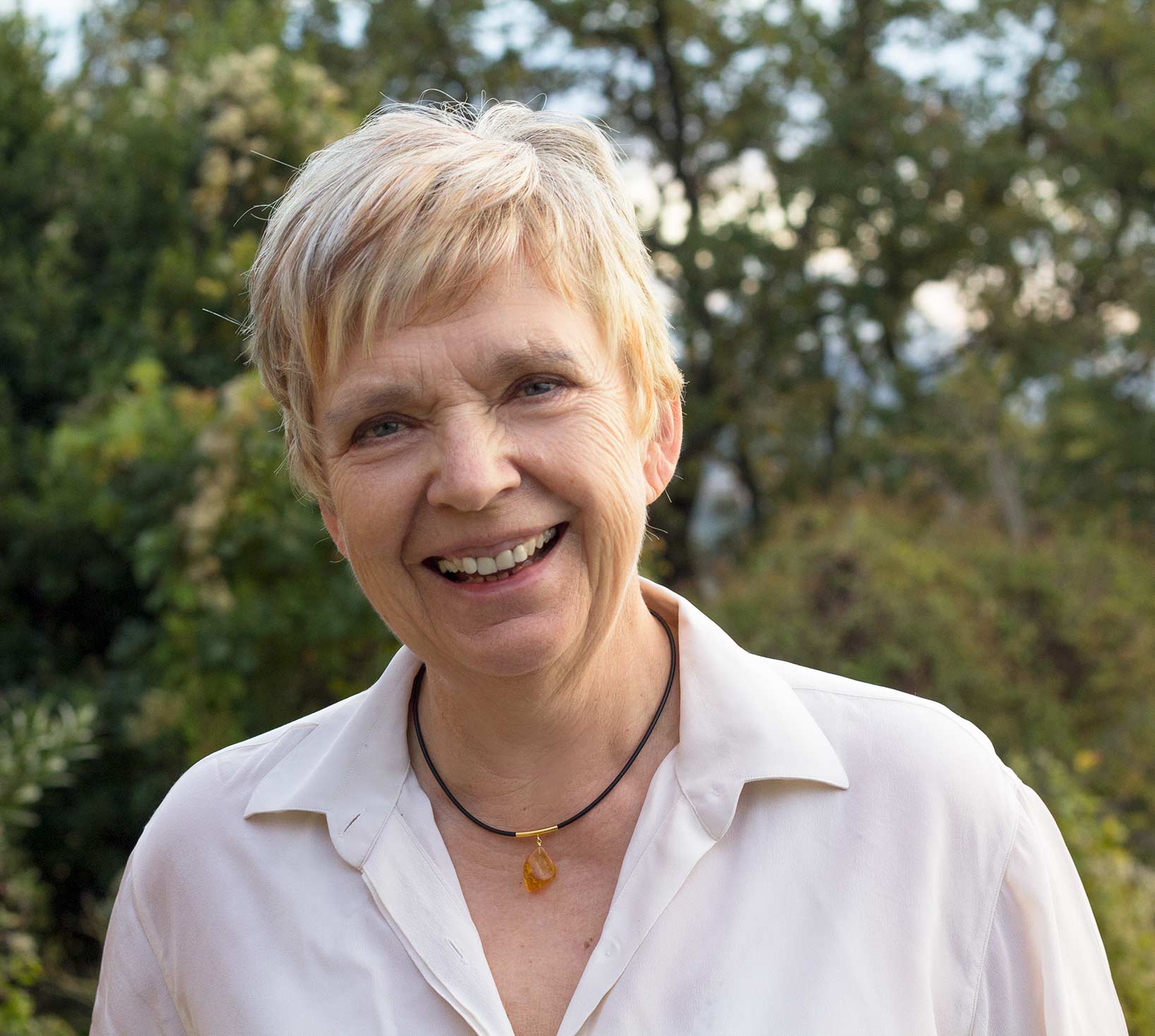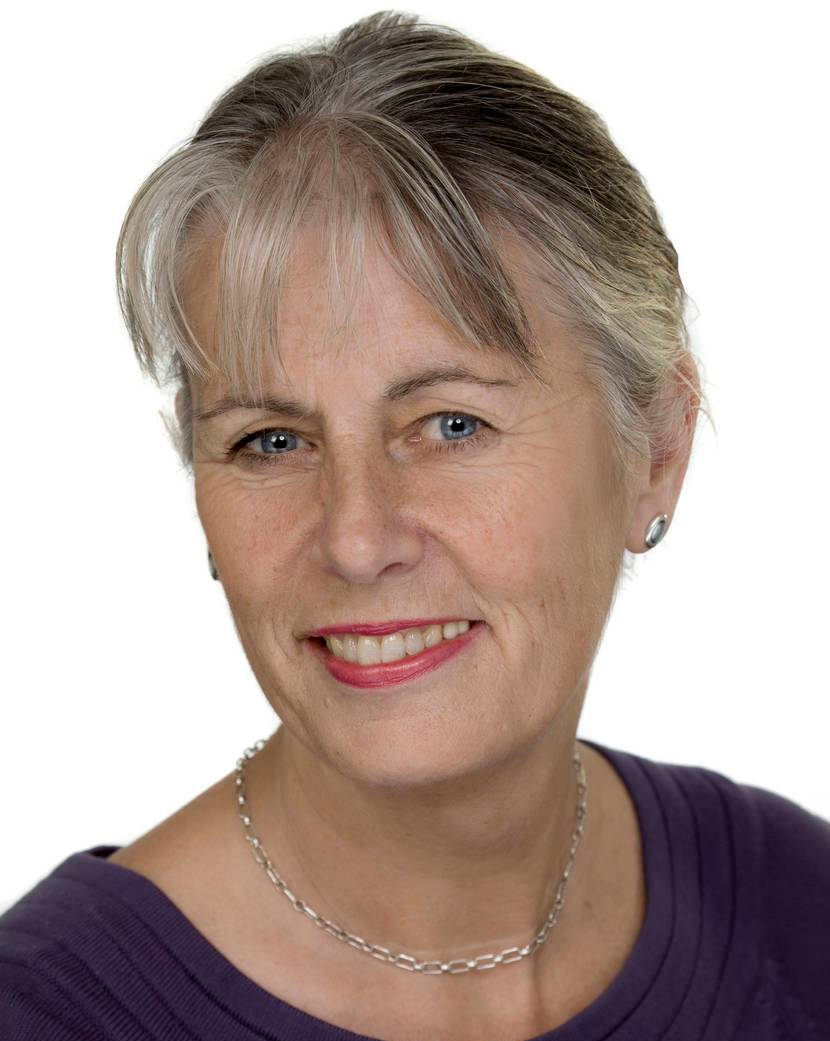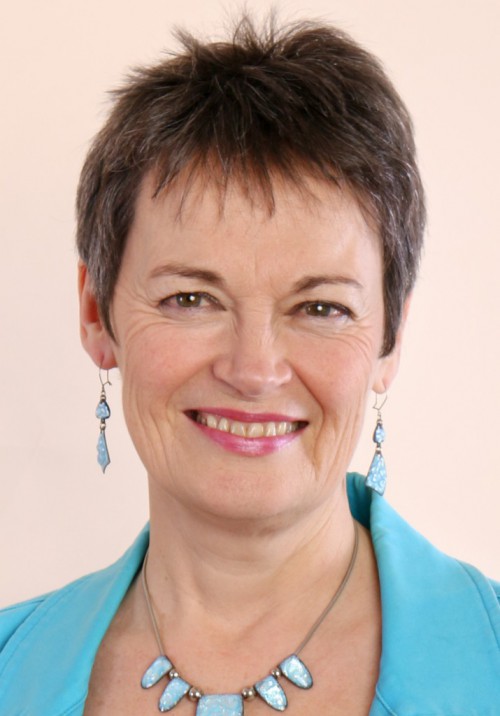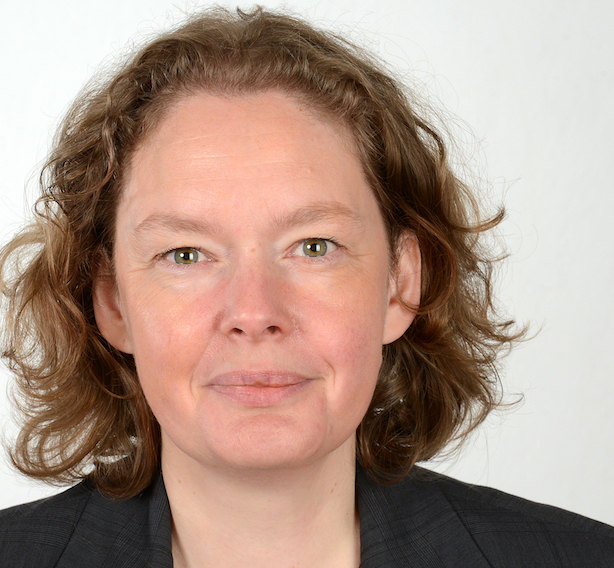 0:00  Intros  Heidi
2:25 Ann Roberts
3:58 Jane Duncan Rogers
6:05 Bettina Wichers
7:40 What does CONSCIOUS AGEING to you? Breakouts
8;37 Elmar Lorenz shares
11:59 David Satterlee
13:25 Hans Kalben
15:55 Michael Scott, Cindy and Elmar Lorenz figuring out who is next to speak
16;30 Cindy: "I am dying to…."
16:50 Michael Scott about elderly parent with chronic disease. Being with the dying. Learning new languages for communicating. Abuses towards the dying, making them objects.
18:58 Heidi talks about the project Conscious Ageing
19:55 Heidi shares a short slideshow
26:00 Jane acknowledges grief and the people being present at the topic which nobody really wants to talk about. Jane's "End of life plan" leads to becoming more present to life and enjoying it.
40:00 Bettina talks about Dementia from an integral perspective. Slide with 4 quadrants.
50:00 Future research with Terry o'Fallon on Dementia, for the next conference
51:15 Bettina in the Wisdom Factory on Dementia in English and in German
51:35 Ann Roberts: her story how she came to be interested in conscious Ageing: the club-sandwich-generation: 4 generations. M.C. Bateson: adulthood 2.
57:35 Screenshare by Ann: Blog Wisdom in Action
58:40 Heidi announcements and invitation for questions.
59:20 Cindy Lorenz: Corona leads to look closer at death and to live more in the now.
1:00:15 Jane shares: looking at death is a positive experience
01:26 Ann Roberts adds to the topic Coronavirus: What is immune resilience? Work what is true but partial. Suggestion: Dr. Zak Bush
03:10 Victor from Singapore: Being nearer to our higher power/God through Coronavirus. "The end will be the beginning"
04:56 Gertraud Wegst: Appreciating the session. Being with dying parents took the fear of death away. Forgiveness and alleviate the fear of the dying. Nothing to fear!
08:00 Heidi Being with the dying is difficult, but a great gift
09:25 Michael Scott: Learning experience when accompanying the dying. What do we think what will happen after death?
11:45 Anatoly Belyaev: the closeness with his mother emerged in the last year.  He helped her to forgive whom she hated. Also Talked about that with his father. 
17: ff Heidi starts the closing
18:15 Commitment to learn about death
Conscious Ageing for Iec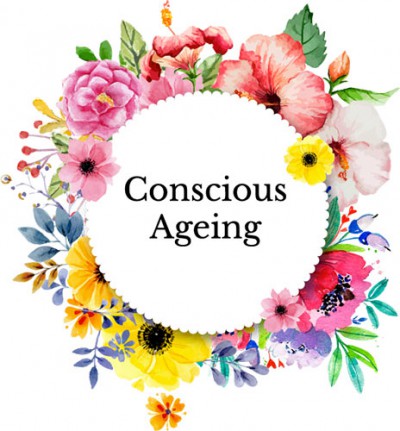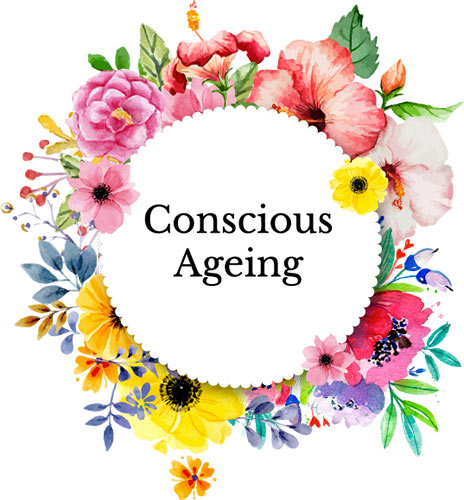 What is Conscious Ageing? – The series in The Wisdom Factory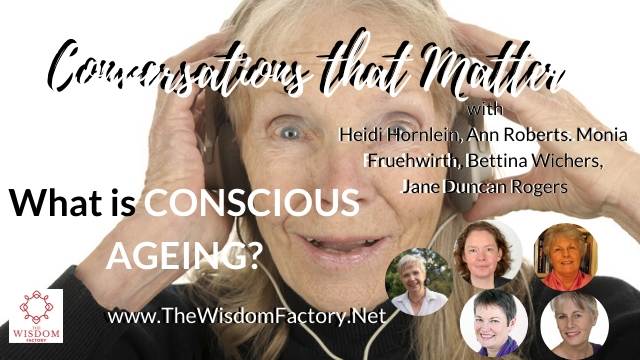 In preparation for the IEC online conference  27th to 31st of May 2020 Heidi gathered a few guests from previous Conscious Ageing episodes to co-create a presentation. This is the rehearsal for the live appearance. Join the conference at
https://integraleuropeanconference.com/
HEIDI´S INTRO
Conscious Ageing: getting older as a chance for wisdom
In the past we thought that with 60 we are old and from now on we were sort of waiting for death. People could go in retirement at that age and retirement often meant losing purpose in life which was connected with the previous occupation.
Here in Italy where I live, there was a time when people could go into "mini retirement" with 40, getting a monthly pension and feeling free to try out something new in their lives. Now the state has decided that "being old" actually starts with 67 and so the restart into something new certainly is not as easy as with 40. But nonetheless it is possible – if we are open minded enough and value older age as a source of rich experience and wisdom which influences our choices instead of believing to be doomed to die, anyway, some time soon.
What was called "old age" before , is now called "adulthood two" with the words of Ann Roberts, guest in the panel for the Integral European Conference. Certainly, there are challenges, the probabilities increase with age that some functions of our bodies decrease, but other might increase if we train ourselves in living our lives in a conscious way.
We need to start with "ageing" itself as a concept and fact in human life. We push it away, we hope to be able to avoid it by neither talking about it, nor preparing for it in a balanced way. We pretend to be younger than we are by creating a youthful persona or even do plastic surgery in order to hide the changes which our body is undergoing.
Age and ageing is a taboo, even more so illness and death, and strangely enough even the things we normally consider "good", like love and sex in older years. Young people often feel awkward when they are confronted with the sex life of their parents. What is so strange about ir? Is sex still seen as only "allowed" for reproductive reasons? Why should young people naturally enjoy sex and older people should be somehow "on the other side"?
These are topics which the women of the Conscious ageing panel are addressing for the conference. They want to inspire other people who enter into the second adulthood, to value the years to come, to explore the possibilities and to see the emerging realities from a welcoming and resourceful perspective.
In this post I publish our "rehearsal" for our contribution for the conference which will take place on Saturday, May 30th 2020. Whether or not we will touch the same topics in the same way as here is up to the moment. We also want to give a possibility to the audience to actively participate in the conversation.
If you are interested in joining us or any of the many other presentations on a huge variety of topics, you can register for the conference at https://integraleuropeanconference.com/online-2020/
Previous conversations with the guests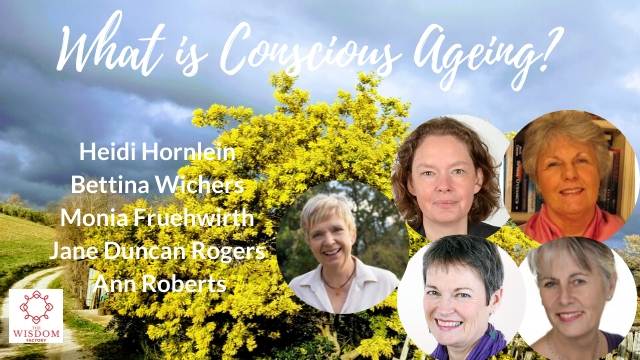 Ann Roberts:
Active Wisdom: an inquiry into elderhood https://thewisdomfactory.net/ann-roberts-2/ September 2019
Conscious Ageing panel  https://thewisdomfactory.net/conscious-ageing-panel/   September 2019
What grandparents can give us and our children  https://thewisdomfactory.net/ann-roberts/ February 2017
Co-creative conversations: an example.  https://thewisdomfactory.net/co-creative-conversations-an-example/ May 2020
WEBSITE:  http://bit.ly/ActiveWisdomProgram
Jane Duncan Rogers
Ageing: the secret behind the greatest opportunity you've ever had  https://thewisdomfactory.net/jane-duncan-rogers/ March 2018
My partner died. I was present. And now? https://thewisdomfactory.net/my-partner-died/  November 2018
A conversation with Heidi : when you face the end https://thewisdomfactory.net/panel-ageing-5/ March 2019
Co-creative conversations: an example.  https://thewisdomfactory.net/co-creative-conversations-an-example/ May 2020
WEBSITES: http://beforeigosolutions.com/ www.giftedbygrief.com
Bettina Wichers
Dementia integral  (english), Demenz aus der integralen Perspektive (german) Co-creative conversations: an example.  https://thewisdomfactory.net/bettina-wichers/  January/April 2029
Co-creative conversations: an example.  https://thewisdomfactory.net/co-creative-conversations-an-example/ May 2020
Monia Frühwirth
Monia has co-hosted many conversations with Heidi. You find them when inserting her name in the search function at www.TheWisdomFactory.net Below a few of them.
ABOUT page: https://thewisdomfactory.net/monia-fruhwirth/
Regular guest 
Co-creative conversations: an example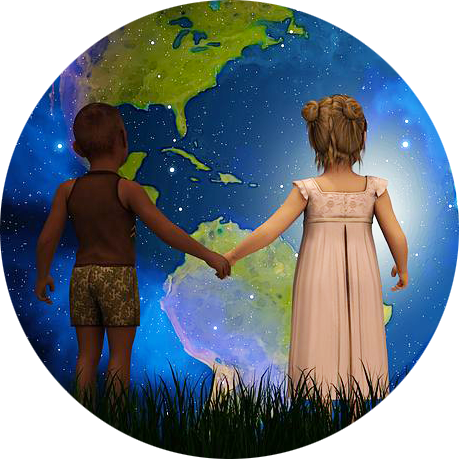 CONVERSATIONS THAT MATTER – CONSCIOUS AGEING
Preparing for the conference: an example for a co-creative conversation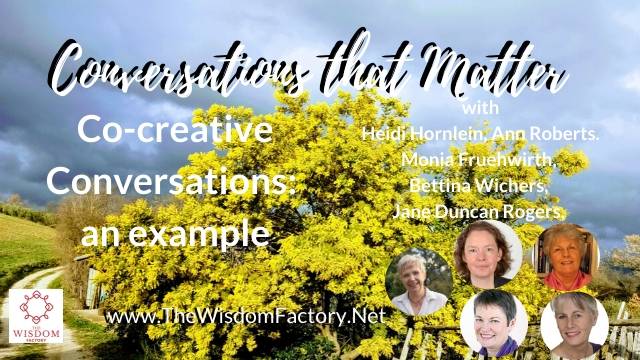 Five women came together to prepare for a shared contribution for the upcoming Integral European Conference. During the conversation they realised that they had been engaging in a co-creative way and the idea arose to publish it as an example. Thus the topic – Conscious Ageing and also death through Corona – is not the important thing why you might watch it, but the way the women self-organised in arriving at the desired result.
Some thoughts on a "co-creative dialogue"
We have talked about co-creativity in the past and identified some of the characteristics which stand out as opposed to debates and discussions. Co-creative conversations leave the participants with a feeling of joy, satisfaction, empowerment and inspiration – while the outcome of discussions and debates often is the direct opposite. There everyone fights for being recognized, for being right, for having won the argument battle.
A co-creative conversation is the direct opposite. Everyone is recognised by the others as having an important piece to contribute to the topic and in the flow of the conversations these puzzle pieces arise and get woven together into the desired result of the conversation. Listening to each other, respecting each other and being open to what wants to emerge is the main tool kit for these conversations. No criticism, but questions. Questions lead further and further into the process of coming to the root of the topic and to the envisioned goal.
During the conversation things might seem to go astray, tangents are introduced, especially those who take into consideration the interiority of the participants, e.g. "How is it for you when….", or "what is your experience with …".
The "normal" way of a meeting has a specific topic and the way of proceeding often articulates itself like: "What can you, xwz, bring to the table?, Is the contribution of x better than that of y? We need to decide on a concrete plan: who does what when" etc. The meeting might be short, everything is "clear", everyone knows what they need to do. But how is their mood now? Did x feel overrun by the decision that the idea of z had been preferred to his own? Does he understand why? Does he feel motivated to collaborate under these circumstances where he feels to be the loser? Does he have a suggestion or a preoccupation which he doesn't dare to mention for fear to be turned down, again and so it remains unspoken and haunts his dreams for not having stepped up despite his insights of importance?
This "normal" way is what I call the "masculine way". Straight forward, linear, restricted to a few threads, leaving out all the others, in a setting of hierarchy or at least of competition. The "feminine way" is different and surely more satisfactory, because it includes the whole humans and not only a few of their competences. From the perspective of the masculine way, the feminine way is deviating from the topic, time is spent uselessly on "unimportant things" and so on.
We women have been trying to adjust to the masculine expectation of how things need to be done – only to find out that it doesn't really work for us, unless we want to become stressed out and finally more masculine than men. So it is not by chance that women love to engage in co-creative conversations which are "feminine" in many aspects. That is not to say that men are not able to engage in co-creative dialogues. Those who are able to step back from the all pervasive linearity and adopt listening skills certainly can. Nevertheless, in my experience, it is very hard for men to resist their tendency to take over, to assume leadership and try to direct the otherwise open ended emergence.
More often than not we find this sort of conversation in women-only groups. But just a bunch of women does not guarantee it at all. They need to express their willingness of exploring the ground together and to listen to each other. For women this seems to be, generally speaking, somewhat easier than for men.
In this post I offer you a concrete example of a co-creative dialogue among women. Listen to it, not so much for the topic, (although you might also be interested in it,) but for the movement of the process. How do we conduct the conversation? How much "leadership" do I, Heidi, use? (I invited the women into the session). How do topics emerge and weave around the purpose of our conversation? How do the women step in to speak? How do they connect to the other women? How do we gain clarity and how do we arrive at the goal of the meeting?
The conversation was not meant to be published, it was our first meeting to agree on a common event for the online Integral European Conference. During the conversation I realised that we were beautifully engaging in a co-creative dialogue which was worth to be published as an example. Please notice also the way we made the agreement for publishing.
Enjoy!
Videopost for April 1st, 2020
0 Checkings. The recording starts in the middle of Monia's check in
0:44 Ann
2:55 Bettina
5:10 Jane
8:16 Heidi gives an outline why she gathered the women and what she plans to do in this meeting
12:15 Jane's response and a question: Our approach to Conscious Ageing, question about the timing 
13:40 Heidi referring to the 1:1 conversations which she had done with all present womens
14:30 Ann; she loves the balance of our territories. Questions about the organisation
16;00 Bettina; what is the purpose of the whole thing?
17:20 Monia: Informing or sharing perspectives. She wants to be asked instead of doing a 10 minutes presentation
19:20 The purpose of Jane
20:20 Monia collects what was said. Her purpose: live life fullest to the last moment
Jane sees the connection of the purposes, the same things from different perspectives
21:50 She is not fixed on the topic of dementia, she could do a integral life practice for Conscious Ageing
23:45 Ann explains how she developed her interest in "composing a further life". "Active wisdom" in elderhood and her interest in Integral.
28:00 Heidi tries to collect what has been said.
28:40 SHort translation into German. The Bettina: she offers her integral map on ageing
29:20 Jane asks about Integral, she thinks that her work fits in without knowing perfectly integral. She presents what she could do in her time slot. Shall she refer to the corona virus?
30:50 Heidi: the contribution should be more private and professional experience, not a theory discussion
31:35 Monia asks us all regarding a text, we read before the recording: Have you done anything to prepare for now, for the Corona Crisis? Monia tells how she prepared, living a somehow reduced life even before. Old age: preparing what is essential for me! She is not afraid.
34:05 Have you reduced a lot in the present situation? Heidi answers first
35:15 Jane answers.
36:50 Ann answers. Appreciates the shift in the conversation. Taking the risk in favour of relationship.
39:35 Main topic: Maybe "what is essential?" Do we include corona in our presentation?
40:00 Is survival = quality of life? Question to Bettina, the only of us who had to reduce due to corona. 
Bettina answers: dying is forbidding because of corona: trying to save people by killing them. She as a gerontologist cannot work at the moment. She  is completely against isolation of old people, instead favors palliative care. Shadows and anxiety of their own dying on the part of the scientists. People need to have the possibility to leave this existence! And in a
45:25 Jane replies her observation: The real issue: we are afraid of dying and nobody talks about it.
46:00 Heidi puts the situation into the integral framework. Suggestion for the online contribution for the conference: Assert that we need to include the left hand quadrants into the consideration of measurements in medicine
47:58 Monia asks Jane about "Grace and Grid". Jane sees the crisis as a wakeup call. Without the present restrictions we wouldn't have the opportunity to learn about the importance of considering interiority and death.
49:05 Ann: talking about Hübls meditation calls: Steven Jenkinson (teh calling for elders to speak and be wise) the movement exists, but not in the media. Timings in the transition in the humanity level. Incarnation of wise souls: How do we stay expansive for the opportunity despite the hardships people are going through? Why are we reacting the way we are?  – Ann realises that she is taking the conversation in a tangent. We are happy with it.
52:30 Bettina sees a polarity between gero-cracy and gero-transcendence. She meets old people who say: you don't need to keep children from playing at the playgrounds to save me! Give back the opportunity to the old to speak from their wisdom.
55:55 Monia speaks about the relief to not seeing tourists crowding Vienna. How much will be able to reduce?
55:50 Coming back to what to do next for the conference? Heidi mentiones that what we were talking here would also be good to publish
56:35 Monia asks Bettina why she would not use her dementia expertise for the event. Dementia is another shadow for people who put it away. Bettina answers: it would be too much for the panel. She would do a panel with Terry oFallon in another panel.> Bettina needs to contact the organisers about that
58:15 Feedback/metaview on our meeting by Ann: feeling of empowerment. She wants to get back into the world and take the risk to see her grandson. She feels able to be responsable for that, She is called to speak more for that. Appreciating MOnia's ability of sensing into the question which moves the energy of the collective.
1:00:00 Heidi asks if she could publish our conversation, an example of the feminine way.
1:01:00 Check outs starting. Appreciation by Monia.
1:01:30 Jane: feels nourished by the conversation
1:02:05 Bettina: It is time for her to come out of her volontary retreat
1:02:55 Heidi: My purpose to bring people together in a common level: an example of co-creativity
1:03:30 Ann interfers to talk about the idea of publishing our meeting, which was not intended as a video for publication. She wants to check in if we are comfortable to be published. This opens a new topic of co-creative conversation. 
1:05:05 Monia: why should you be afraid of others knowing you? – Ann thinks about her daughter who is concerned for social media.
1:05:55 Heidi proposes what the procedure for publishing could be
1:06:25 Bettina sees the importance of this impuls
1:06:53 Jane has no problems with being public
1:07:20 Ann feels heard and appreciates it
1:07:30 Monia: "I am too old to be afraid"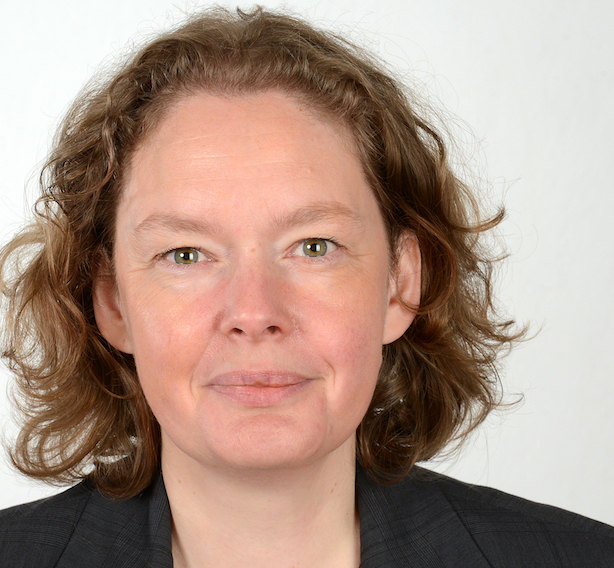 CONSCIOUS AGEING
February 13th, 2019 at 7pm UTC+1
INTEGRAL DEMENTIA
Bettina Wichers is a german gerontologist who primarily focuses on improving old peoples's health from an integral perspective.
READ MORE AND GO TO THE LIVE STREAMING PAGE