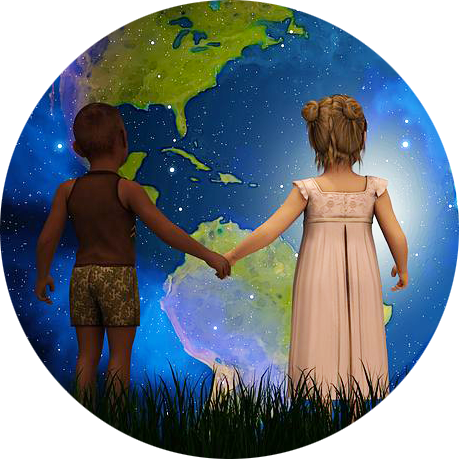 CONVERSATIONS THAT MATTER – THE INTEGRAL AFRICAN DIAOLOGUES
Exploring life in Africa – and in the world. A conversation with Hannelie Venucia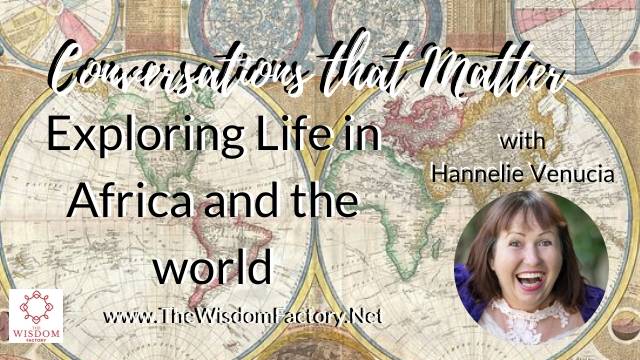 Heidi writes
Africa is far away in our European minds. We don't really care a lot about what is going on there. We love their wild animals, see them in pictures, videos, zoos and maybe in national parks and we have all sorts of naive cliche Ideas about the people who live there: they live in poverty, they are are somehow primitive and we are called to send them developmental help. Aren't we great?
There are stories from billions buried in the sand, literally, because we believed to know what they need. We send them "help" based on our own ideas without knowing and considering the local perspectives. And we are convinced that we must teach them how to live in the world: in stone houses and huge cities, dressed in western clothes and buying and consuming what we export to them while still exploiting the richness of the country for our own benefit. We have given up to dominate Africa by means of colonisation by invading armies, today the colonisation takes place by exporting our ways of looking at the world, our life styles and our ways of thinking.
The lack of respect towards others, to the world itself, has brought us to the present crisis. The overvaluation of material goods and strategic thinking, the masculine way of being in the world, is still so dominant everywhere, so that people can hardly even imagine that there could be a different way of approaching life. We need to balance with the feminine way, to allow unfolding, uncertainty and creativity. We need to abandon our strategic thinking and the belief to be able to reach the goals in a linear way, based on our present knowledge. We need to acknowledge our basic ignorance and restrict ourselves to facilitating the processes through which the living systems are evolving. Our interference in self-organising systems, even in good will, is probably causing more damage than good. Becoming more humble and giving respect to life and all beings is the only way we actively can contribute to a positive change in the world.
We have done a lot of damage with our "good will" to "civilise" Africa. We didn't respect the people as human beings, we exploited them believing in their inferiority. They are still carrying these wounds from the past which need healing – and we better get aware how much we are still living in a colonial mindset in the western world, if we are aware of it or not. We need shadow work, individually and collectively, in order to create a world worth living in!
Theories like "Spiral Dynamics" do a great job in explaining the stages of development in humans. Unfortunately these levels are often considered in terms of "good" and "better", and so naming the colors of Spiral Dynamics to refer to the levels, as we do in the interview, can easily misunderstood that way. Our western mindset is so used to hierarchical thinking and in equating the positions in the hierarchy with power, so that we need to be very careful and observe ourselves and our biases for not continuing the damage created before.
What can we learn from people and societies which we believed to be inferior to us? First of all: we need to ask ourselves this very question. As so far we thought there is not really anything these countries can offer to us, except precious resources, minerals, gold, diamonds, etc. Also bananas and colorful fairy tales about strange foreign countries to tell our children. By visiting these countries, not the tourist places, but areas where normal life is going on, we have the chance to realise that happiness doesn't depend on money and material goods; that we are pressing a lifestyle on others who don't want it, originally, but our seductive way of making them believe into the western values, in fact, is destroying their ability and desire to live in harmony with nature. They could, instead, lead us to regain connectedness and respect of mother earth – badly needed in our present transition time.
My conversation with Hannelie is naming all these problems and perspectives. There is awareness and insight in what attitude is needed to be developed in ourselves and what ways could bring us to the goal of understanding, peaceful coexistence and real progress, in human terms, not prevelantly in economical interests. The exchange was very inspiring and evokes confidence in our human ability to deal with challenges – when addressed in an open, curious and humble way, allowing the solutions to arise by becoming ever more aware of what needs to be given up and transformed in ourselves and in our surroundings to enable the unfolding of organic processes of healing and growing.
Videopost for April 15th, 2020
About Hannelie Venucia
With a passion for human and organizational potential, Hannelie Venucia loves to create and share embodied experiences that reminds humans of their greatness and genius, and that expand their perspectives. She is the  founder of The Inspiration Gap – a Leadership and Creative Innovation Consultancy, the founder and creator of the Joy Generation – an Online Wisdom and Discovery Portal, the co-founder of The Creativity Gap – a Creativity Consultancy, and the co-founder of The Sensemaking Gap – Sensemaking Lifestyle Incubator in Switzerland. Hannelie started her career in Human Resources, and has 28 years of Management, Change Management, Creative Innovation, Business, IT, HR, Leadership, and Strategy Consulting experience, across 4 continents.
A seasoned international public speaker, gifted workshop creator, embodied change facilitator, author, poet, narrator, visionary, creative innovation strategist, embodied sensemaker and philosopher, worldpainter, intuitive, mentor, human whisperer, podcaster, radio host, and global authority on Creative, Receptive, Embodied, and Generative Leadership, Collective Sensemaking, Creative Innovation, and Expanded Perception Hannelie created and facilitated pioneering events, workshops, programs, and shared talks in countries such as Japan, Spain, UK, Romania, Malaysia, Turkey, Zambia, Kenya, Rwanda, Ghana, Malawi, and Southern Africa. Her Leadership, Innovation, and Women Empowerment Online Radio Shows inspired thousands of leaders, women, and entrepreneurs to think differently. Her paper, 'Embodiment – the missing link in Creative Innovation', has been published in the International Journal for Innovation in Management in 2017. She will be presenting her papers 'From chaos and change to fulfillment and impact -Sensemaking – A novel approach to Business Strategy, Execution and Innovation' and 'How Technology enables Sensemaking in the 4th Industrial Revolution' in 2020/2021.