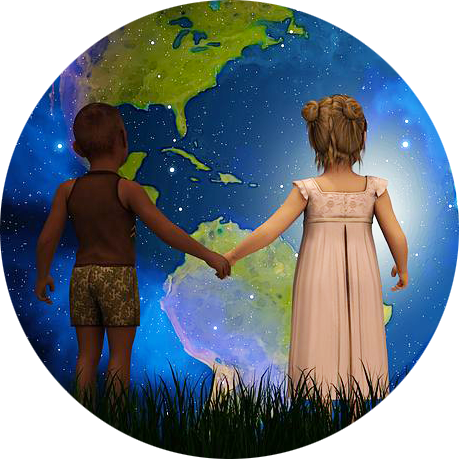 ABOUT THE CONVERSATIONS THAT MATTER SERIES
Meet amazing People who are involved and concerned with practices which can make the world a better place. They are sharing with you their story and their insights about how to grow ourselves, discover our life's purpose and to become an agent for positive change. Our guests come from many fields. What ties them together is their broader view on reality, their ability to see problems from multiple perspectives and to search for solutions which are integrated and able to catalyse the necessary changes we need to survive and even thrive in the future.
This series is free and permanently accessible on this website. TIME STAMPS (Where to find what in the video) are available on the streaming page of the sessions accessible by clicking on the pink cross under the videos.
If you want to get email notifications and reminders before future episodes please give us your email address by the Subscribe button down the page. Below the "UPCOMING EVENTS you find previous episodes ordered by year and also by the field of topic.
GO BACK TO MAIN PAGE: CONVERSATIONS THAT MATTER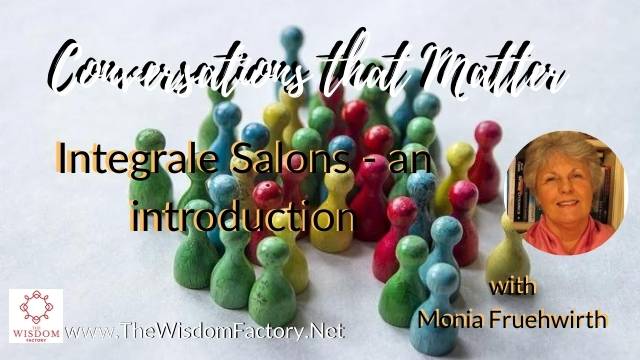 NEW WAYS OF UNDERSTANDING   WITH HANNELIE VENUCIA
WE NEED NEW WAYS OF LEADERSHIP, IN THE OUTSIDE WORLD AND ALSO IN SELFLEADERSHIP.
The story of sharing the corn goves a hint of how we could be in the world differently.
MORE HERE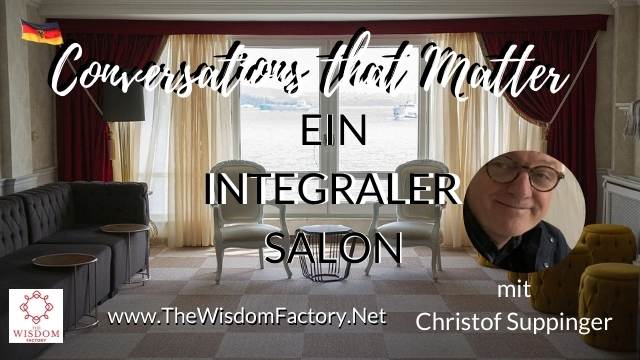 Seit Christof Suppinger die Integrale Weltsicht entdeckt hat, ist er begeistert aktiv. Seine bereits bestehenden Initiativen, die Menschen zu wahren Begegnungen einzuladen werden nun integriert in den Rahmen eines Integralen Salons in Zürich. Seine Begabung als Clown macht die Treffen immer sehr anregend und dynamisch, ein wunderbarer Weg, neue Inhale zu vermitteln. Eine Anregung für Euch, doch mal bei ihm oder in einem anderen integralen Salon vorbeizuschauen im neuen Jahr!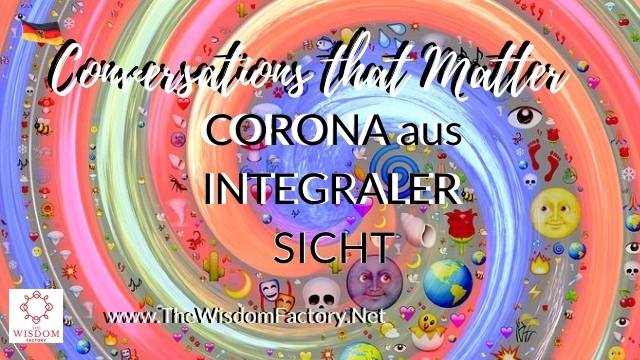 Corona hat die Welt fest im Griff, oder besser die Art und Weise, wie in den verschiedenen Ländern darauf reagiert wird. Die mehr oder weniger betroffenen Menschen reagieren und verhalten sich entsprechend ihrem Bewusstseinslevel: stimmt das wirklich?
Wulf Mirko Weinreich gibt eine umfassende Analyse der verschiedenen, teils sich feindlich gegenüberstehenden Positionen unter Verwendung der integralen Landkarte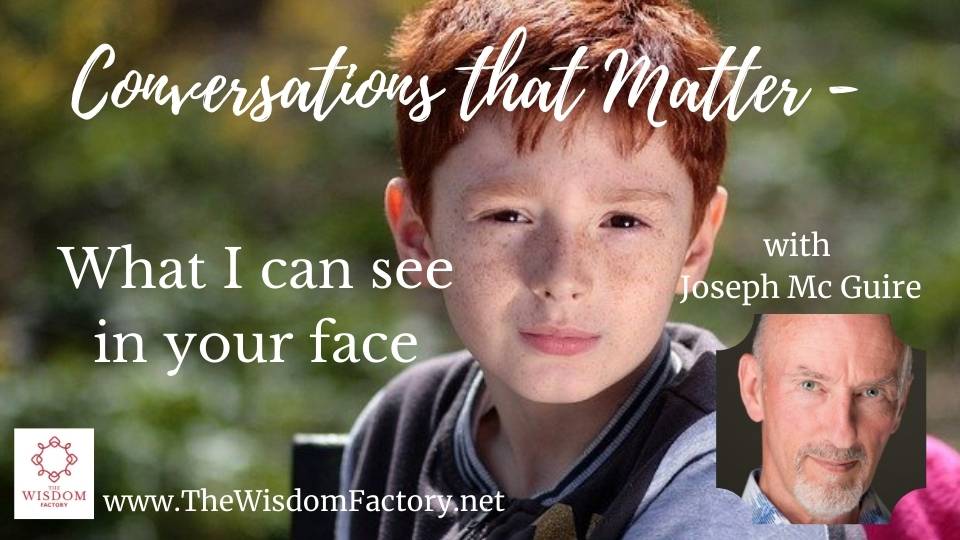 THE ART OF READING A FACE
What benefit can come out of a person's ability of reading faces? Aren't we all able to do that to a certain degree? Joseph McGuire talks about his lifelong experience in face reading and more.
Find more HERE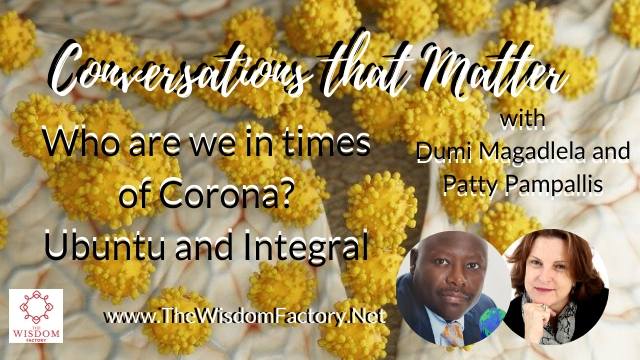 Who are we in times of Corona?
Ubuntu and Integral perspectives with Dr. Magadlela Dr. Pampallis, South African Wisdom and the need for Leeadership development-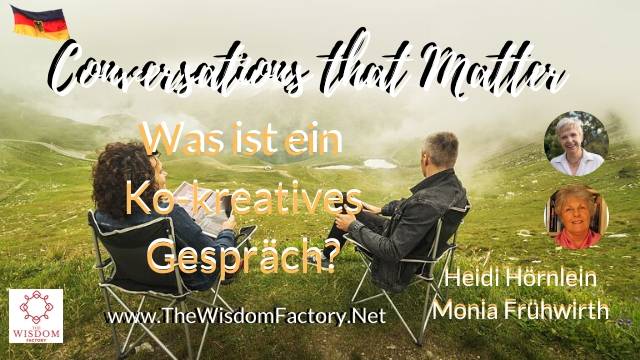 Was ist ein Ko-kreatives Gespräch?
Heidi und Monia in einer Brainstorming Session, wo sie herausfinden, was der Unterschied zwischen "normalen" Gesprächen und ko-kreativen Gesprächen? Die Erfahrung aus den Frauengesprächskreisen.
mit Monia Frühwirth Heidi Hörnlein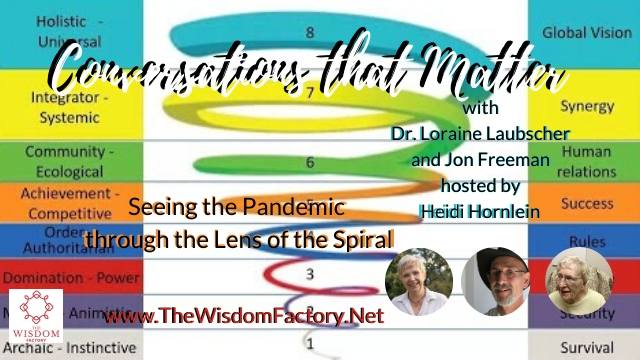 Dr. Loraine Lauscher assisted Don Beck, the co-founder of "Spiral Dynamics, to end Apartheid peacefully in South Africa.
She is an expert in the levels of development by lived experience.
Jon Freeman is a scholar and writer whose work is based on Spiral Dynamics.
In the conversation they exchange their views on the pandemic in preparation for the discussion at the Integral European Conference 2020.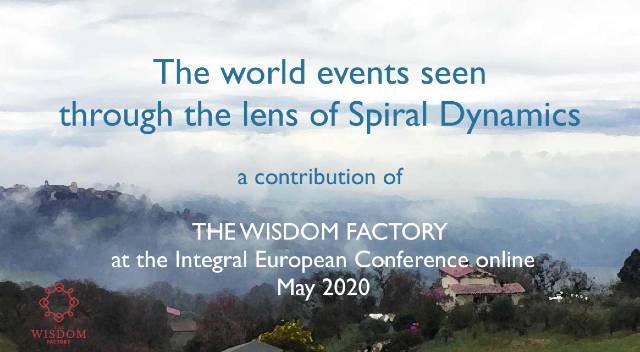 Jon Freeman and Dr. Loraine Laubscher talk about the racist events in the US and the response to them, as well as to Corona. The recording is from the live event at the Integral European conference.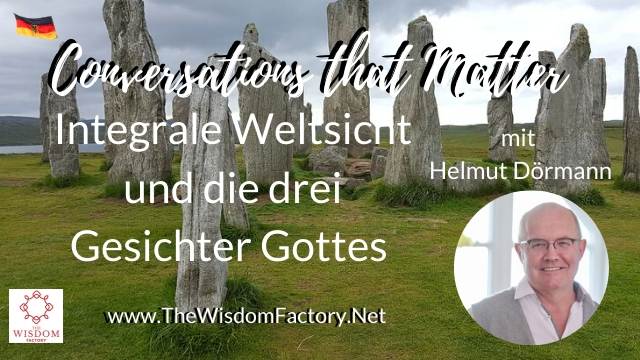 Integrale Weltsicht und die drei Gesichter Gottes mit Helmut Dörmann
Integrale Theorie ermöglicht uns einen umfassenderen Blick auf Religionen und Spiritualität, die jeweils nur ein bestimmtes "Gesicht Gottes" zur Grundlage nimmt.Damit könnte Religion wieder attraktiv und sinnvoll werden, wenn sie sich in alle Gesichter hinein entwickeln würde.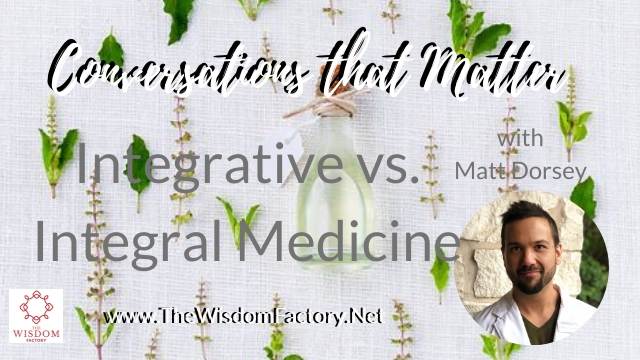 INTEGRATIVE vs. INTEGRAL MEDICINE with Matt Dorsey
What role do Spiral Dynamics and Integral Metatheory have to play in understanding the current state of 'integrative medicine'?  How do modern and post-modern perspectives about medicine clash, and what role might Integralists play in the future of medicine?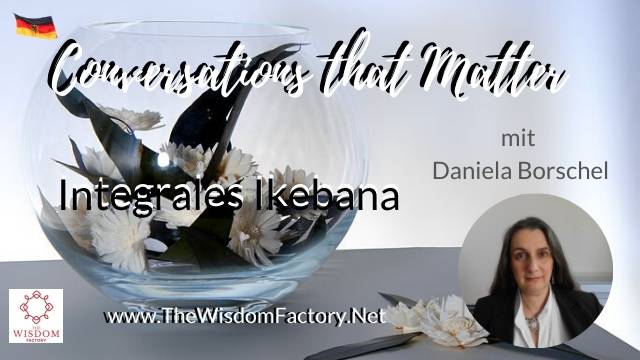 Integrales Ikebana
Kado, der Blumenweg. Daniela erklärt, wie Ikebana eine integrale Lebenspraxis sein kann-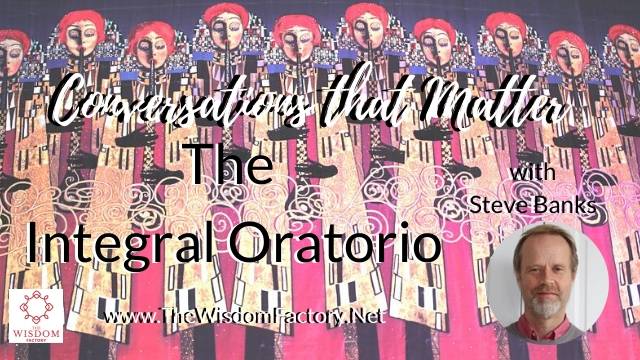 The Integral Oratorio with Steve Banks
Over the last 6 years, Steve has composed a major new choral work, "Blue Pearl: A One World Oratorio", inspired by a deep desire to convey Ken Wilber's Integral vision through the beauty and power of music. We will talk about how Steve came to write this ground-breaking piece, what makes 'Integral' music 'Integral', and the world premiere which will be on 27.2.2021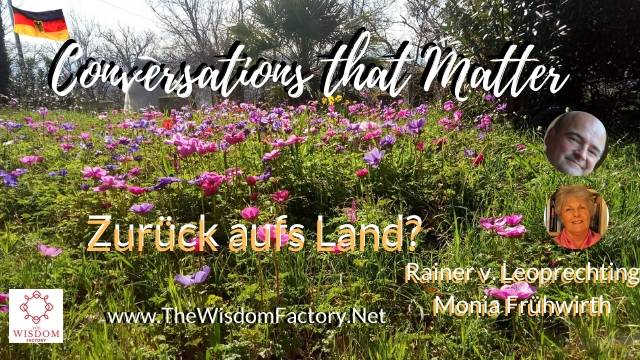 Zurück aufs Land?
Was können wir lernen, wenn wir temporär oder dauerhaft auf dem Land leben?
mit Monia Frühwirth und Rainer v. Leoprechting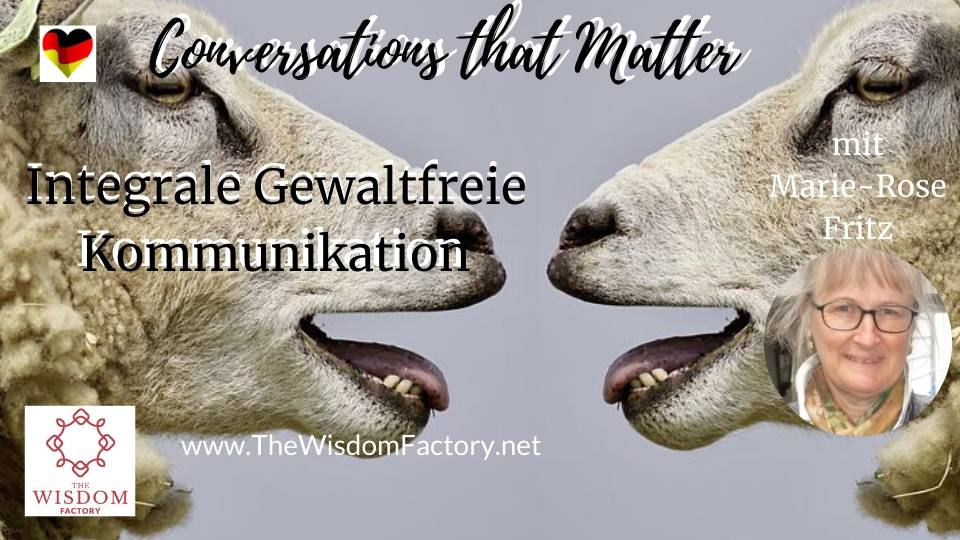 Integrale Gewaltfreie Kommunikation
mit Marie-Rose Fritz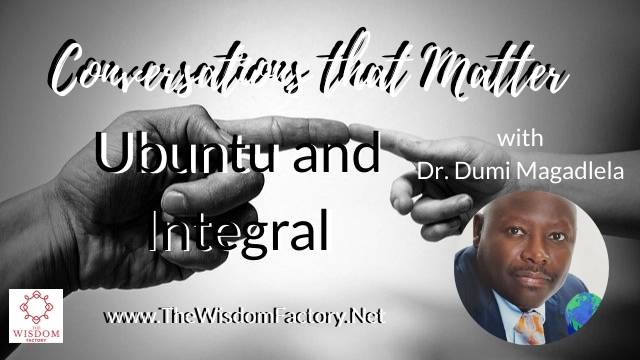 Ubuntu and Integral
Dr Dumisani Magadlela is an Executive Coach, Coach Trainer, Leadership Facilitator and Organisational Development Strategist based in Midrand, South Africa. He uses the Ubuntu philosophy and its approaches in his coaching and leadership development work. He spoke on the connection of Ubuntu and Integral Theory on the first Integral African Conference in June 2019
CONVERSATIONS THAT MATTER – THE AFRICAN DIALOGUES
René de Beer, a close friend and collaborator of Rica Viljoen of Mandala Consulting loves her country, South Africa. Her dream is to keep the beauty of purple  alive, the qualities which people naturally have when they live in a close family bonding with a sense of belonging. She needs to move into the UK and will continue to work for the goal to hold dear and cherish the purple qualities in humans.
VIDEOPOST, published for October 23rd 2019
0:00  Intro Heidi to Christmas in Italy
1:25 Paul Smith introduces himself. "Integral Christianity". "INtegral Christian Network"
2:25 Luke Healey —- 
3:35 The important of the enchanting Christmas in childhood. The stages of development and the form of religion. Push back on Christianity, despite we are grounded in Christian culture.
5:50 Paul on religion and integral theory. "A new Christmas story – God in 3D". 
7:20 The dimensions of God. The integral  perspectives on the Christmas story: God beyond us: transpersonal God, the I-AM God  the cosmic dimension. God as higher Consciousness = God being us. God with us = the personal God.
10:50 Heidi on Jesus being born somewhere = only one dimension
11:25 Luke: What Christmas was for him: God with us = 2nd person dimension = connection. From there include incarnation, in ourselves = God being us.
13:10 How integral has informed his vision of Christmas. Transcend and include – also the sense of wonder! Sacred ritual.
16:15 2000 years of Christianity – maybe the commercialisation helps to keep the message somehow alive, maybe the real meaning can be back some time.
18:15 Paul: "we are the baby in the manger!". Integral gave him a new picture of Jesus. He emerges as a universal person. The universal Christ.  He can welcome all expressions now.
22:20 Was Jesus on the integral level of development? – Paul answers.
23:15 Luke on Jesus being integral. The true meaning of Christmas: Different meaning on different stages. Children of God are gods. Incarnation.and being fully human.
26:00 "We are god" – the blasphemy or inflated ego versus the truth 
Paul responds: "Iam in the process of owning my divinity". Non-separation, non duality. Distinction in writing od/God. Orthodox church: diofication. "God being us" , "point of light in us", Quote of Hafiz. Needing to keep all 3 dimensions of God for not moving out of balance
30:20 Luke: The conception of GOD. The language we use is important.
31:45 Heidi: Humans are mixed good/evil. Is this God, too?
32:45 Paul: that's why we need a God beyond us. Higher consciousness and the experience of Oneness, where good and evil is not a problem. Starting making it one here on earth.
34:40 Heidi: The concepts good/evil is human quality and construction, called to transcend this duality
35:55 Luke: RIchard Rohr: "we have an image and a likeness of the divine". Process to become beings of love and light.
37:15 Heidi: need to redefine our understanding of divinity. Paul: responds on why Jesus got mad on the evil of exclusion and separation.
38:20 Luke about his children living Christmas. Christmas carols and the challenge of the developmental needs.
40:20 Paul: about the language of Christmas songs: all male words. His book "Is it ok to call God "Mother"", change into female? Drives some people crazy. Now he came to the point to sing the male words, just joins in as he know that God is not either. Adjusting to the stage where people are at.
42:40 Heidi: At least Mary exists in the catholic church. Paul: more appearances of Mary increased in the last years. People need a feminine presence. Mary increased also in the Moslem populations. Mary and Mary Magdalene are both spiritual guides of Paul.
44:55 Feminists and religion. Why has the feminine been so excluded? Paul: because of men being in charge. MAybe still long time before a woman can be pope. Progressive Christianity: God is male and female. Patriarchy is abnormal.
47:00 Patriarchy was normal with the appearance of the solar masculine. "Men made God in their image" Luke expands on the stages of development. We need to find new ways for experiencing our spiritual expression. On being spiritual pioneers.
50:15 How would "Integral Christmas" look like? Paul responds from his experience in a baptist bookstore.: 2 Mariys and no Josef in a nativity scene.
52:00 Luke: what he is doing with his children. Everyone has to figure it out by themselves when they don't want to go to traditional church. Need to create new spaces is the passion of Luke.
54:02 Paul about the we-space groups on Zoom: "Whole body mystical awakening" Entering into the mystical level, where many problems resolve and gives you more energy to go out.
57:30 Heidi: Going to amazing churches can bring you into contact with the devine.. Church as a building has a special power., especially in Christmas time.
59:10 Luke about his travels to Europe, in his city San Louis is also nice decoration in the church, but he doesn't feel to attend any service there.
1:01:00 Heidi: Music in an empty cathedral is heart opening, music as a means of connecting with the divine.
1:02:55 Luke:Christmas:  go to the heart and to the body, not thinking too much. Feel the childlike love and wonder! Engage with all 3 faces of God from the heart space.
1:04:20 Paul: would have said what Luke said. Heidi: Listen to the Christmas songs in an acoustically inspiring room  sing along. Music is the stairway to heaven.