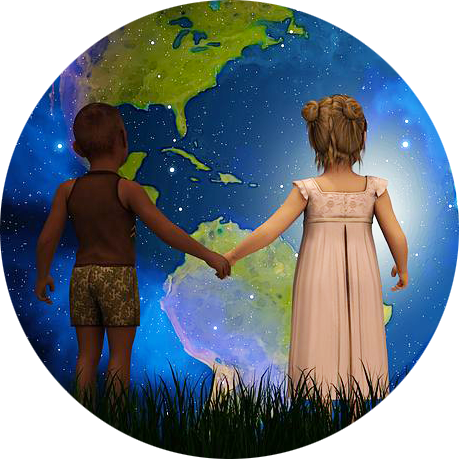 ABOUT THE CONVERSATIONS THAT MATTER SERIES
Meet amazing People who are involved and concerned with practices which can make the world a better place. They are sharing with you their story and their insights about how to grow ourselves, discover our life's purpose and to become an agent for positive change. Our guests come from many fields. What ties them together is their broader view on reality, their ability to see problems from multiple perspectives and to search for solutions which are integrated and able to catalyse the necessary changes we need to survive and even thrive in the future.
This series is free and permanently accessible on this website. TIME STAMPS (Where to find what in the video) are available on the streaming page of the sessions accessible by clicking on the pink cross under the videos.
If you want to get email notifications and reminders before future episodes please give us your email address by the Subscribe button down the page. Below the "UPCOMING EVENTS you find previous episodes ordered by year and also by the field of topic.
GO BACK TO MAIN PAGE: CONVERSATIONS THAT MATTER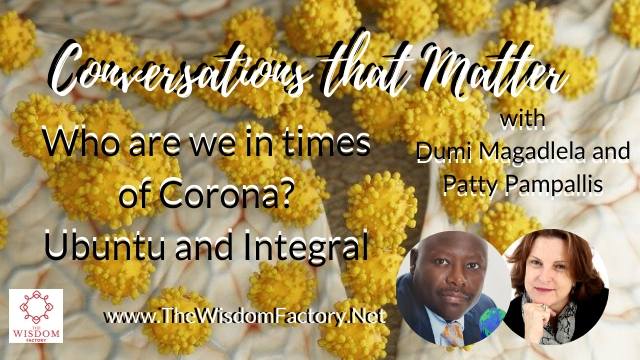 Who are we in times of Corona?
Ubuntu and Integral perspectives with Dr. Magadlela Dr. Pampallis, South African Wisdom and the need for Leeadership development-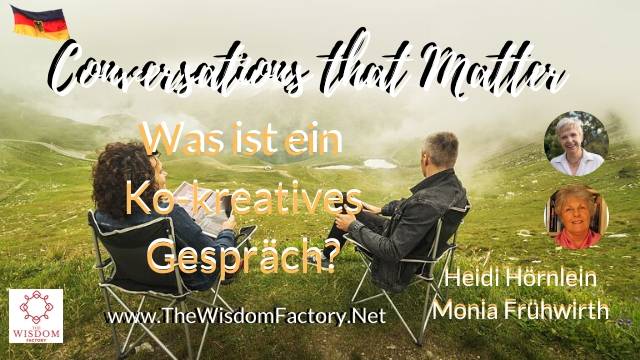 Was ist ein Ko-kreatives Gespräch?
Heidi und Monia in einer Brainstorming Session, wo sie herausfinden, was der Unterschied zwischen "normalen" Gesprächen und ko-kreativen Gesprächen? Die Erfahrung aus den Frauengesprächskreisen.
mit Monia Frühwirth Heidi Hörnlein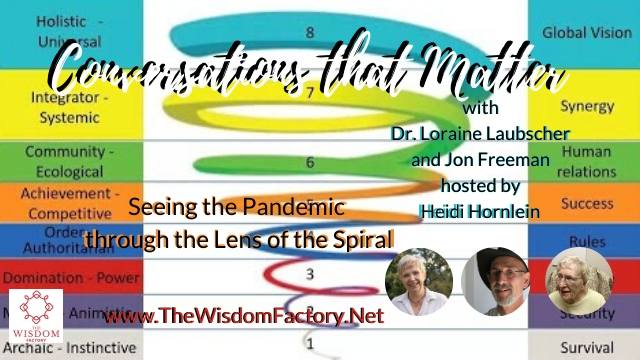 Dr. Loraine Lauscher assisted Don Beck, the co-founder of "Spiral Dynamics, to end Apartheid peacefully in South Africa.
She is an expert in the levels of development by lived experience.
Jon Freeman is a scholar and writer whose work is based on Spiral Dynamics.
In the conversation they exchange their views on the pandemic in preparation for the discussion at the Integral European Conference 2020.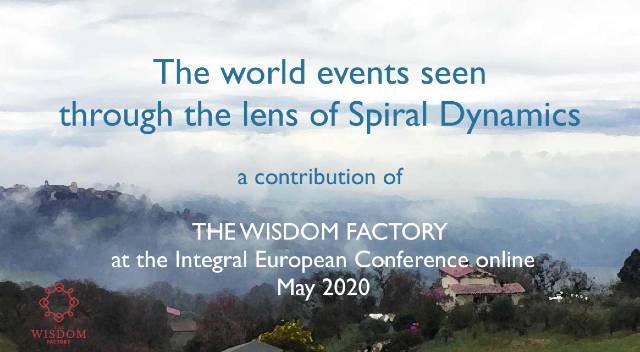 Jon Freeman and Dr. Loraine Laubscher talk about the racist events in the US and the response to them, as well as to Corona. The recording is from the live event at the Integral European conference.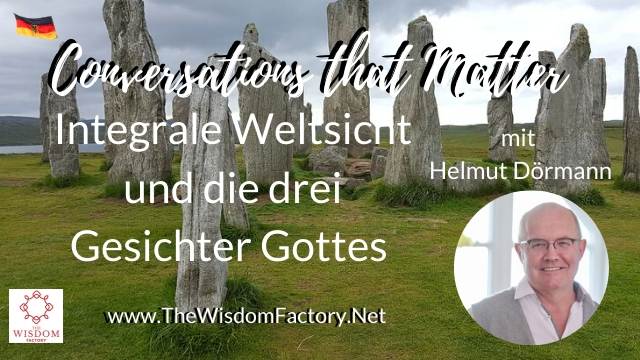 Integrale Weltsicht und die drei Gesichter Gottes mit Helmut Dörmann
Integrale Theorie ermöglicht uns einen umfassenderen Blick auf Religionen und Spiritualität, die jeweils nur ein bestimmtes "Gesicht Gottes" zur Grundlage nimmt.Damit könnte Religion wieder attraktiv und sinnvoll werden, wenn sie sich in alle Gesichter hinein entwickeln würde.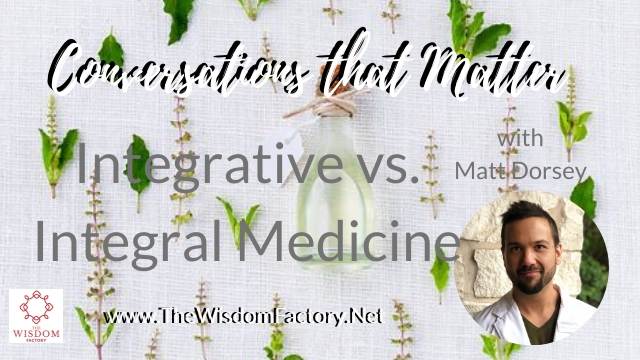 INTEGRATIVE vs. INTEGRAL MEDICINE with Matt Dorsey
What role do Spiral Dynamics and Integral Metatheory have to play in understanding the current state of 'integrative medicine'?  How do modern and post-modern perspectives about medicine clash, and what role might Integralists play in the future of medicine?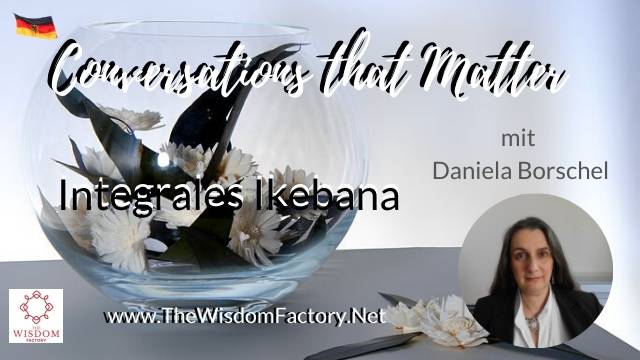 Integrales Ikebana
Kado, der Blumenweg. Daniela erklärt, wie Ikebana eine integrale Lebenspraxis sein kann-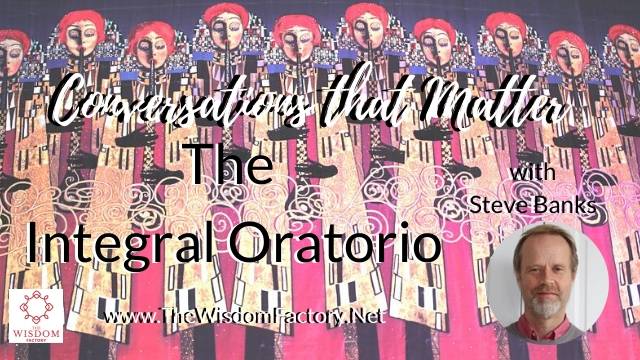 The Integral Oratorio with Steve Banks
Over the last 6 years, Steve has composed a major new choral work, "Blue Pearl: A One World Oratorio", inspired by a deep desire to convey Ken Wilber's Integral vision through the beauty and power of music. We will talk about how Steve came to write this ground-breaking piece, what makes 'Integral' music 'Integral', and the world premiere which will be on 27.2.2021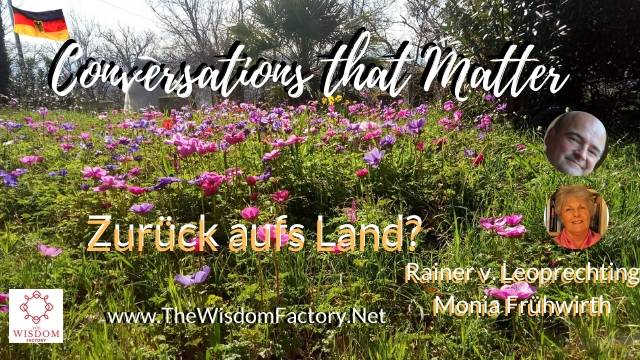 Zurück aufs Land?
Was können wir lernen, wenn wir temporär oder dauerhaft auf dem Land leben?
mit Monia Frühwirth und Rainer v. Leoprechting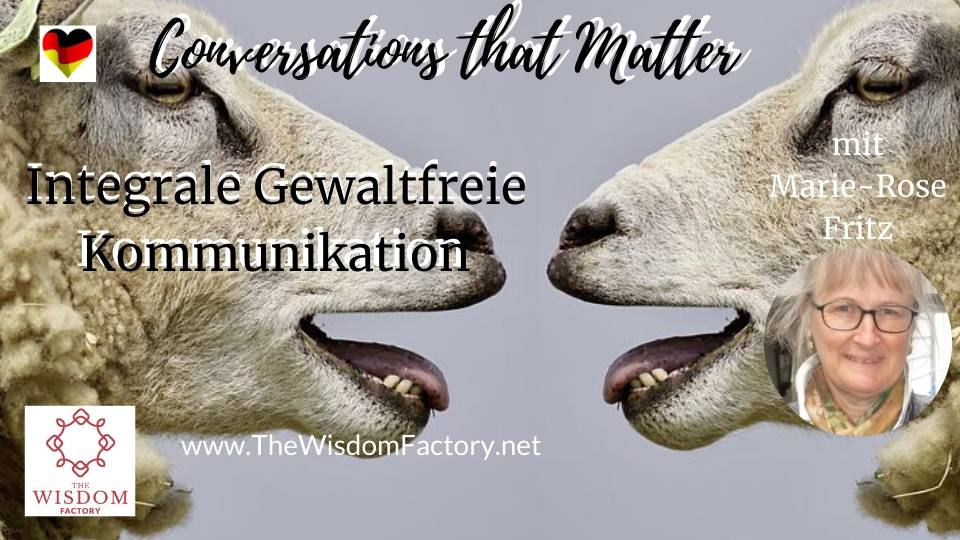 Integrale Gewaltfreie Kommunikation
mit Marie-Rose Fritz
0:00 Intro Heidi, die Stimme aus dem Dunkeln.
1:05 Martin Horstmann, Traditionelles Weihnachten für die Kinder
2:08 Frank Puckelwald. Der 24. Ist ein stiller Tag, ohne Rummel aber mit den Symbolen.Zitat von Richard Rohr: die Geburt des Göttlichen durch uns.
4:06 Heidi: religiöser und kultureller Aspekt von Weihnachten.Das Wunderbare. Was könnte Weihnachten heute bedeuten.
5:55 Frank: die Kultur von der Religion geprägt. Symbole müssen gelesen werden können. z.B. Weihnachtskugeln als die Früchte des Lebens am Lebensbaum. AAnderer Aspekt: der Kommerz, 3 Ebenen.
8:40 Martin über den Kommerzaspekt.. Die Wichtigkeit der Weihnachtsgeschichte. Die Kinder beim Krippenspiel der Geschichte. Der Glaube spilet keine ROlle, die Geschichte enstegt neu im Spiel, auch bei St. Martin, Krippenausstellungen
12:04 Frank: Mysterienspiele als Ursprung von Theater, Wunsch nach Vergegenwärtigung. Auch im Religiösen gibt es verschiedene Ebenen. Geburt des Kindes hat äussere Dimension aber auch dass das Göttliche in die Welt kommt in MIR. Lied 41.
14:40 Weihnachten = das Göttliche in mir geboren. Martin: Weihnachten der Ort, wo das Licht geboren wird. Die Heilung liegt in der dunkelsten Zeit! Vertrauen, dass es weitergeht.
17:35 Frank: Ying and Yang: Heidi: Der Zeitpunkt war schon immer die Wiedergeburt des Lichts. Schattenarbeit.
19:40 Naturspiritueller Zugang. Weihnachten und Winter, der mit Allerheiligen beginnt. Nov-Ende Januar ist die Dunkelzeit, in der MItte ist Weihnachtszeit (Advent ist eine Fastenzeit!)
22:55 Heidi: Weihnachten als Fixpunkt im Jahr. Schön, dass es noch existiert, auch wenn z.T. anders belegt ist. Ich sthehe jetzt zum Begriff.
24:15 Frank zeigt das Bild, das er unter den Christbaum stellt.EIn Integrationsbild.:
27:50 Psychologie: die verschiedenen Stimmen in mir. – Frank beschreibt noch einmal das Bild.
28:20 Martin beschreibt ein Bild: "Earthrise", die Erde vom Mond aus gesehen, vom 24.12. 1968.. Die Menschheit kann jetzt den eigenen Planeten von außen sehen, Erwachen des ökologischen Selbstbewusstseins am Weihnachtstag!
32:45 Es werde Licht. Elektrizität kommt zurück in Heidi's Haus, von hier ab tauchen Rückkopplungseffekte auf. Es gibt etwas Größeres als wir.
34:05 Integrales Christentum Paul Smith, MArion und Tiki Küstenmacher und Tilmann Haberer: Gott 9.0. Wie kann sich das Bild von weihnachten verändern, wenn wir aus der Tradition herausgehen?
36:02 Unterscheidung zwischen Religion und Spiritualität, die Formen braucht, aber mit persönlicher Transformationsebene. Paul Tillich: "Gott ist, was mich unbedingt angeht", die Ebene des Berührtwerdens. Hartmund Rosa "Unverfügbarkeit": Mit der Welt in Kontakt, hat mit Berührung zu tun. Räume für Erfahrungen schaffen in der Kirche. Sehnsucht und Angst.
39:00 Wir sind die Höhle, in der das Weihnachtsgeschehen stattfinden kann. .
40:09 Sebastian Peinerdat, indischer Jesuit. Religion ist die FORM von Spiritualität, was der INHALT ist. Beide zusammen bilden eine lebendige Einheit.
42:07 Weihnachten als Symbol. Rückwendung zum Christentum aud grund der kindlichen Wundererfahrung.
43:40 Martin: Integrale Idee der Entwicklungsstufen, Integration der früheren Stufen. Daher die Tradition weitermachen und darin was neues finden, anstatt eine komplett neue Deutung finden zu wollen. Weihnachtslieder sollten da bleiben!
46:30 Heidi: es geht um die Interpretation, die wir den Dingen geben. Rückschau auf die vorherigen Stufen und wieder annehmen können dadurch. Nicht das Baby mit dem Badewasser ausschütten.. Immer das Thema Gut und Böse, was uns noch immer berührt: das ist die religiöse Botschaft: das Gute soll das Böse überwinden.  
Ausklang mit technisch-akustischen Schwierigkeiten.
CONVERSATIONS THAT MATTER VLOG
Integrale gewaltfreie Kommunikation
mit Marie-Rose Fritz
VIDEOPOST, wird am 24.Juli veröffentlicht