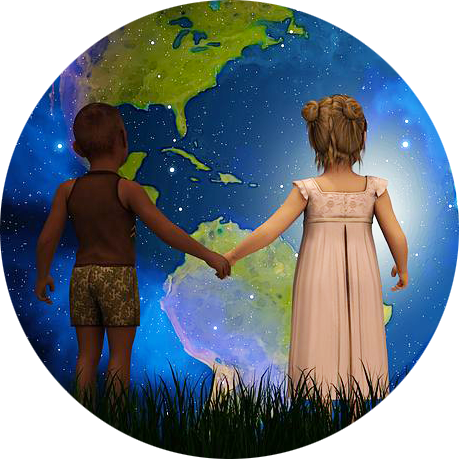 VLOG – CONVERSATIONS THAT MATTER
Integrative versus integral medicine with Matt Dorsey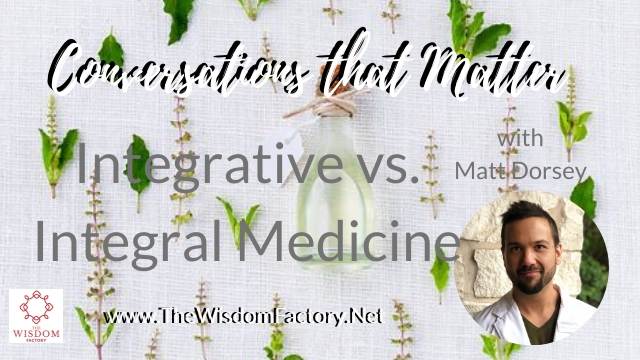 What role do Spiral Dynamics and Integral Metatheory have to play in understanding the current state of 'integrative medicine'?  How do modern and post-modern perspectives about medicine clash, and what role might Integralists play in the future of medicine?
HEIDI WRITES
Western medicine has developed incredibly during the last century. Diagnostics get better and better, thanks to modern technology and for every imaginable illness there seems to be a chemical drug which will resolve the problem. The success story of western medicine often misleads our perception and our judgement on treatments which could be more helpful and less damaging than pharmaceutical drugs.
Why?
The triumph of modern medicine, especially surgery techniques, has saved many lives, increased life expectancy and reduced infant mortality, no doubt. On the other hand, a human being increasingly was seen as a heap of organs where specialists use their knowledge on, but the whole being, the system which constitutes our body, mind and spirit, was less and less seen and considered. So illnesses are treated, but not people cured from their illnesses. Seems paradoxical, but whoever has been a patient in a hospital knows exactly what I am talking about: it is about treating the illness. The person having the illness is hardly seen with her needs, her feelings, her fears and his desire to know what exactly is going on and why and how they are treated this way. The patient has to be patient and follow the orders of the gods in white, the doctors. That's how conventional medicine is working out in our western world. Other treatments, alternative medicine like homeopathy etc. are considered a scam because the healing principle of these disciplines don't fit the dominant scientific belief system.
In my conversation with Matt Dorsey we talk about the levels of development which govern the mindsets of people, medical doctors and alternative practitioners included. We talk about the limits of both approaches, as well as those of the so called integrative medicine, which is located mainly in a mindset still based on the orange and green level.
We also talk about the lack of seeing illness from all 4 quadrants, traditional medicine trying to reduce everything to the upper right quadrant – albeit even there not considering factors like subtle energies etc.. Alternative medicine is grounded on the Upper left quadrant and fights against the upper right quadrant. Integral medicine would consider all four quadrants and avoid the trap to consider one of them as "real" and the others as scam, or at least negligible.
There are dedicated practitioners on their way, but there is still a lot to do until people even realise that health and healing doesn't mean taking a bunch of medicines by following the orders of a patronising medical doctor. The human body is a miracle. Science is discovering more and more, Quantum physics, epigenetics etc. Until these new insights come to public awareness – and to the curriculum in Universities – it will still take a long time, and much unnecessary suffering and even deaths, caused by ignorance and rigid belief systems.
A shout out to all courageous health practitioners who dedicate their lives to open-mindedly explore better ways to help people in their struggles with imbalances in their lives.
MATT WRITES
In order to paint a picture of how we may unite Science and Spirituality, in order to bring Medicine into the 21st and 22nd centuries, let's take a deep dive into the dances of paradigmatic conflict which are currently tempting so many of us to throw the baby out with the bathwater in an effort to rise above the polemics and absurdity at whatever cost.
The Orange Meme [AKA modernity, AKA scientific materialism] has committed the capital offense of attempting to reduce all of human experience, its rich search for meaning, its artistic conceptualizations of the transcendent dimensions, and all the other nebulous, fuzzy, messy, qualia of our world to those entities which can be fully measured, namely matter and energy. This has been called Science's colonization of art and morals by philosopher Jürgen Habermas. Ken Wilber, of course, calls it 'Flatland'.
Reductionism was scientific materialism's attempt to become the new ultimate arbiter of truth, replacing the church [Blue Meme, AKA pre-modernity], which was of course classically its tormentor but also its progenitor. Consider the fate of scientists whose theories or discoveries about the natural world conflicted with any of the teachings of the Catholic Church.
Now enter the Green Meme [AKA post-modernity], which—with its emphasis on holism, equality, eco-responsibility, and good old-fashioned FEELINGS—makes Orange's materialistic, hyper-rational, measurement-obsessed way of being seem downright nihilistic.
About Matt Dorsey
Matt Dorsey, BSc, MAcOM, LAc is a licensed acupuncturist, nutritionist, and natural medicine consultant who draws from his studies of Oriental Medicine, Acupuncture, Herbology, Clinical Nutrition, Psychology, Pharmacology, and Energy Medicine in his practice.
Describing himself as 'medically multilingual', he equally appreciates modern medical science and the more mystical, ecologically harmonic modalities which have come from our planet's rich history of ancient healing traditions.