Getting older East and West
 with Winnie Singh
Watch the live broadcast here on April 12th at 10 AM PT/ 7 PM CET
Mark's Introduction
About a year ago, we noticed a new contributor to our website, a New Delhi woman named Winnie Singh who frequently posted bright and pithy comments about ageing – and also used humor to catch our attention.  We looked forward to her postings but were a bit in the dark about her as her accompanying photo was in poor resolution and quite small.  All we could make out was an erect figure with white hair outside in some attractive natural setting.
We assumed she was rather old from that "misleading" information and, as she was so articulate, we eventually asked her if she'd be interested in joining us for an interview/conversation, focusing on – since she was our only "Eastern" poster – contrasting views on ageing East and West. Finally she consented.


Then as we started "researching" this interesting quest, we were surprised that, however white haired she might be, she was not "old" by the "conventional" measurements we were in the habit of using in our discussions on our Facebook group page: https://www.facebook.com/groups/1581835995462981/about/(By the way, ask to join us in this lively group!)
We found she was a highly active woman with a history of, among other things, working hard to improve the lot of Indian widows, who found themselves often in desperate straits with no social safety net in place.  She was also a vocal spokesperson for women's rights in general, using her skills and her social status to broadcast information and encouragement to both women and men who sorely needed her progressive positions.
An unusual woman using her particular talents and abilities, she is the founder of Maitri, a benevolent organization helping thousands at:
maitri.india@maitri.org.in.  We obviously got much more in this woman than we had expected!
Here a video where she speaks about the problems of women in India and what they are doing about it in the organisation.
Click on the links below to find books written by Jane Duncan Rogers or which have inspired her 
Problems Of Widows In India
Aging in India- Problems and Potentialities
Anovel about a girl in India trying to find her way out of the traditional role for women
Climbing the Stairs
About Winnie Singh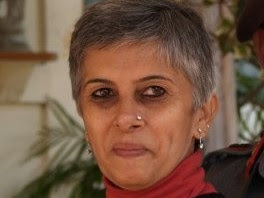 Winnie graduated in Psychology and Philosophy from Miranda House, Delhi University. Presently she is a PhD scholar in Public Health at Jodhpur National University. Winnie Singh is a committed social worker, with over two decades of experience at national and grassroots level in public healthcare, with special emphasis in the area of health, elderly and gender equity. Her lifelong interest in humanitarian relief, dynamic nature and action has been the driving force for a lot of new social programs in Northeast India, Domestic Violence, Widows of Vrindavan and in the slums of Delhi. Winnie founded Maitri – a non profit organization committed to Poverty Alleviation, Education and Health.
She has been instrumental in making a difference to the lives of many victims of Domestic Violence by empowering them with life skills and education. She is an advocate for respect and dignity for the widow mothers in Vrindavan and through Maitri have adopted 304 widow mothers, who are provided with a nutritious mid day meal 365 days in a year along with facilitation of health facilities.
Winnie is the Honorary Ambassador for Helpage India. She serves as a Governing Board member of Aashirwad, a non profit organization committed to serving the needs of Senior Citizens and an old age home.
She is married to Lt. Gen Bhopinder Singh PVSM, AVSM, VSM, who supports her in her initiatives.