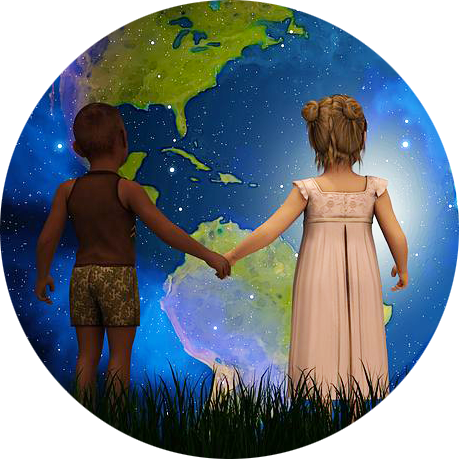 VLOG – CONVERSATIONS THAT MATTER
Die Chance, die die Corona Krise der Menschheit bietet. Ein Gespräch mit Joy Foley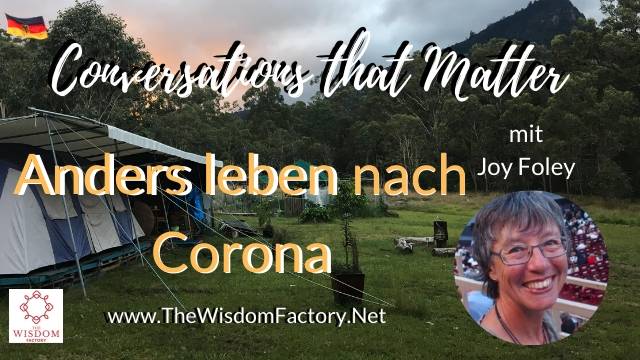 HEIDI SCHREIBT
Wir Menschen sind gut im Wegschauen und nicht Wahrhaben Wollen. Der virus tpbte in China – aber das hatte nichts mit uns zu tun. Dann wurde es brenzlig hier in Italien, wo ich lebe. Es wurden immer strikter werdende Maßnahmen eingeführt, aber meine Warnungen an Familie und Freunde wurde nicht ernst genommen. Offenbar muss man erst selber im Schlamm stecken, bevor man an dessen Existenz überhaupt glaubt.
Jetzt ist es so weit, obwohl noch immer einige Menschen glauben, dass die Vorsichtsmaßnahmen nicht nötig wären. Was machen schon ein paar Zehntausend Tote, wenn es um den Erhalt der Wirtschaft, des Finanzsystems und des "normalen Lebens" geht?
Das all dies längst nicht mehr Menschenwürdig und Umwelt-verträglich war, das wussten doch schon einige. Aber was konnten sie machen, ausser auf die Straße zu gehen und für unrealistische, weil einseitige Ziele zu demonstrieren? Aber offenbar war die Zeit reif, so dass Mutter Erde den Reset Button gedrückt hat, ganz auf ihre Art und sicher nicht so, wie es sich die Klimaschützer vorgestellt hatten. Aber jetzt gibt es kein Zurück. Die Luftverschmutzung ist drastisch zurückgegangen und auch der CO2 Ausstoss. Die Selbstheilungskräfte der Erde sind aktiv. Hurrah!!! Aber????
Aber wie wird es nachher aussehen, wenn wir das Massensterben, a la "Spanische Grippe" vor hundert Jahren ,aufgehört hat und die Menschen nach Möglichkeiten suchen, sich und ihre Lieben zu ernähren? Was tun, wenn es nichts mehr zu kaufen gibt und das mühsam ersparte Geld sowieso nichts mehr wert ist? Werden wir zurückkehren zur industriellen Massenproduktion mit den exakt gleichen Umweltproblemen? Zum Finanzwesen mit der exakt gleichen Ausbeutung derer, die mit ihrer Arbeit das finanzieren müssen, was sie gar nicht wollen? Zum Welthandel, der nur auf Gewinn aus ist und durch den die Nationen ihre Fähigkeit zur Autonomie an den Nagel gehängt haben?
GIbt es Alternativen? Ja, die gibt es, seit langem, belächelt von all denen, die im Geldverdienen den einzigen Lebenszweck sehen. Ecovillages erproben seit langem eine neue Form des Zusammenlebens in kleineren Gruppen, wo Kooperation ohne wirtschaftliche Interessen im Vordergrund steht Es gibt viele private Initiativen und auch Forschungsprojekte für neue Formen des Lebens, die einen Weg aufzeigen können, wie die Zukunft sein mag: Weg von den großen Städten, hin zu kleinen Gemeinschaften, die weitgehend autonom zusammenleben.
Joy Foley hat ein solches Projekt in Australien gegründet. "Peace Valley". Wir haben vor wenigen Monaten ausführlich darüber gesprochen, auf Englisch (siehe HIER). Heute trafen wir uns, um über die Möglichkeiten zu sprechen, die uns der Coronavirus beschert.
Wir sind jetzt aufgerufen, die Wahl zu treffen, für oder gegen das Leben auf unserem Planeten, für oder gegen unser persönliches Wachstum zu verantwortungsbereiten und -fähigen Menschen. Geben wir unsere Selbstüberschätzung und überhebliche Arroganz auf, die uns glauben macht,, von der Natur und voneinander getrennt zu sein? Dies ist das Jahr der Entscheidung!
Wir alle sind aufgerufen, in uns zu gehen und zu ergründen, was wirklich wichtig ist im Leben. Solange die Geschäfte voll waren und alles funktionierte, konnten wir uns in falscher Sicherheit wiegen. Wer sind wir wirklich? Im Zeichen der Herausforderungen hast Du Gelegenheit, nach einer Antwort zu forschen und Dein Leben entsprechend – und freiwillig – zu ändern, bevor Du von den Umständen dazu gezwungen wirst und vielleicht in eine Richtung, die Du nicht willst!
JOY WRITES
You can download the full documents HERE
Peace Valley is a residential retreat which provides space to reconnect with ourselves, each other and nature in a way which honours all peoples and all of nature. Visitors experience simple off grid community living in tents in the bush, experiential learning of permaculture gardening and bush regeneration work, with facilitated activities from 'The Work that Reconnects', 'Dragon Dreaming' and 'Theory U'. It is a mix of inner and outer ecosystem regeneration. How we are informs the quality of what we do. Mindfulness and meditation are integrated into the daily routine.
Our vision includes education of youth to empower them as future leaders, integrating wisdom from indigenous and western modalities alongside permaculture gardening and ecosystem restoration work. We are working with the Githabul Family, the stewards and custodians of the land where the project is situated. An important part of our vision is to shift from the current financial paradigm and Peace Valley is therefore run using 'Gift Economy' making it accessible to everyone no matter what their personal financial situation.
Ein Gespräch mit Joy über das Project PEACE VALLEY finden Sie HIER
Sponsorship possibilities
Download the pdf HERE
About Joy Foley
Joy Foley is both founder and facilitator. Her life experience includes creating organic gardens, off grid living, nature connection, yoga and mediation.
In Germany, she assisted in initiating a food cooperative and alternative community, and lived plastic free for a year.
She has completed facilitator training with the Pachamama Alliance and Applied Ecovillage Living (AEL) at Findhorn Community in Scotland. She speaks English, German and a little Italian.
The website: https://peacevalleyau.org