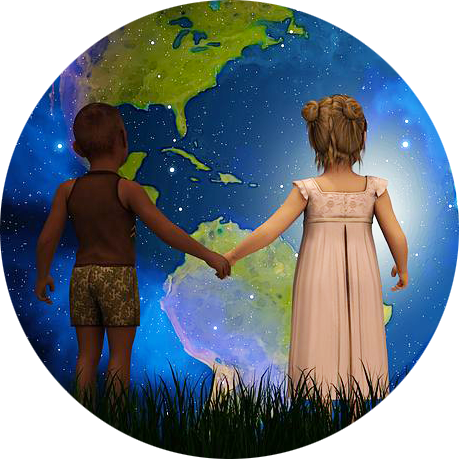 CONVERSATIONS THAT MATTER – CONSCIOUS LIVING CONSCIOUS DYING
Corona and the fear of death – with Cee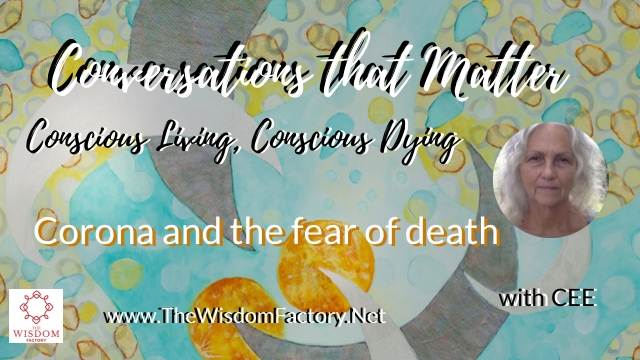 Heidi writes
Corona and the fear of death: Why spiritual practice is important.
We are going through the Corona crisis right now. The measurements taken by our governments probably make sense, everyone in the world is impacted in one way or another. For some people it might be the loss of their work, lack of income and food insecurity. Others lose family members and friends to the illness, and most of us are living in various levels of fear which is maintained constantly by the media, by the numbers of infected people and deaths. We are afraid of losing loved ones – and of getting infected ourselves. That could mean that we, ourselves, have to face death, not some time later, but right now, as a real possibility.
We live in a world which has excluded death from our lives. Modern medicine pretends to be able to treat every illness with ever more sophisticated machinery and drugs. Death equals failure, so it should not happen. And if it does, better don't engage with it too much, take the body away as soon as possible, forget about it.
This, certainly, is not the best way for dying, neither for the person in their dying process, nor for those around them. In that very vulnerable moment we would need support, not by machines, but by compassionate human beings who listen to our life story, who reassure us that our life was worth living, that our existence and our struggles were acknowledged. We want to feel safe, embraced by somebody we love, when we have to face this important transition. We want to feel calm when the unavoidable arrives. And we want to bless those around us, thank them for their assistance and hope that they will have a compassionate person around when their hour has come.
The fear of death leads many people to hide and ignore it as much as possible, and so they deprive the dying person from that support which is so crucial in these moments. This is a real shame. All the people I know, who have witnessed and assisted a dying person, have lived it as a gift, a blessing, a difficult but deeply rewarding experience which quite often lowers the fear of their own death. An experience to seek out instead of trying to avoid it!
Now tens and hundreds of people are dying of Corona. We would have enough possibility to face death in a constructive, humane way. Instead their lungs are forced to take in oxygen – an immense suffering for the human involved. They might survive, about 30% do, but is the suffering worth the extra days or weeks of living on this earth in absolutely unpleasant circumstances? Does pure survival of the body outweigh the quality of life?
These are difficult questions. Every human being needs to ask them. And also: how do I want to die? Do I want to die in suffering and fear? Or do I want to be confident and calm when the moment comes? What can I do to prepare myself?
The modern materialistic worldview, where our health systems are located, doesn't have any answer to that. God is dead and spirituality laughed upon as superstition. Any other worldview, pre- or post rational, has a way to include the transcendent into human life and to help people to face death as a transition, as the most important event in the life for us humans. The key is spiritual practice of one sort or other.
There are many spiritual paths, traditions which reach back thousands of years or newly "invented" practices which can lead to the same goals. Humans have different affinities and tastes, and the same is valid for spiritual paths: what is good for me might not be good for you! We need to try to walk them in order to understand which one, finally, to stick with.
My guest, Cee, did exactly that. She started with a guru who admonished his students to concentrate on him and so enlightenment would arrive, somehow – which didn't work for her. When she met Advaita Vedanta, she found the appropriate path, she found her life purpose and her personal development by practicing it and harvesting its benefits. It was a delight to talk with her about the meaning of life and death and how we can inspire others to face these important topics instead of succumbing to fear and desperation.
Videopost for Mai 13th, 2020
About Cee
The focus of Cee's life has been spirituality and art.  Interested in the meaning of life at an early age, she spent decades exploring wisdom teachings and practicing meditation.  She has taught Advaita Vedanta, cared for dying people through hospice, and written two books about Consciousness.  Cee has created hundreds of paintings and sculptures exploring spirituality and shows her art widely.  She received a BFA from the San Francisco Art Institute, an MFA from Mills College and won the Jay Defeo award.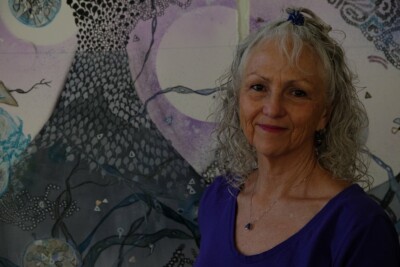 Cee on social media:
instagram @ceemakesart
email ceeinhana@gmail.com