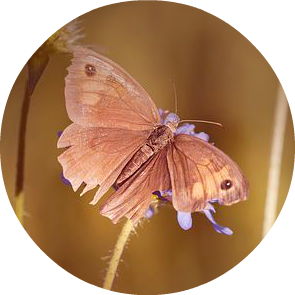 BLOG – CONVERSATIONS THAT MATTER
CONSCIOUS LIVING, CONSCIOUS DYING
recorded in September 2018
A conversation with Mark's family members
CLAIRE AND MIHAI IN CONVERSATION WITH HEIDI
CLAIRE AND MIHAI TALKING ABOUT LILLIAN DAVENPORT
When I got to know Mark in 2011, Mark's daughter Lillian was diagnosed with breast cancer. She had published a youtube video where she was full of hope to overcome the illness. That's how I got to know her first, and only a year later in person. She came to Italy in our Paradiso Integrale with her husband Mihai right at the end of a retreat of personal development. We did some of the exercises together, we also talked about the illness and where it might come from. We had a really good time together and I felt to have been given a daughter.
9 months later we went to visit her in Chicago. The illness had proceeded, she was getting worse, it was heartbreaking. We did what we could do to assist her in the 2 weeks we were there. We were impressed by Mihai and how he lovingly supported his wife, with much patience and dedication. In an age where people normally are engaged in building a career and a family, in living their lives fully, these two people in their early 30ies took on the challenge of approaching death.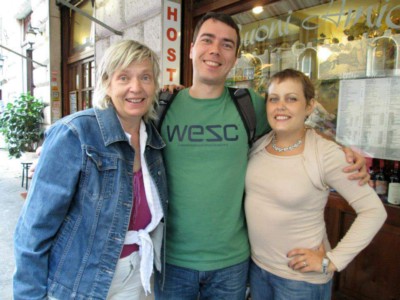 CLAIRE ASSISTED HER SISTER ON HER DEATHBED
Claire is a special needs teacher, a professional in caring for others. But it is a difference when you need to take care for your sister who is about to die from cancer. Lillian was only a year younger than Claire herself. They lived in a huge distance, but they were very connected through all these years. Imagine the blow when you, with 30 or so, get the news that your sister has a terminal illness and that you need to prepare yourself to say good-bye?
Claire took time off her regular job – assisting a sibling doesn't count legally for taking sick leave.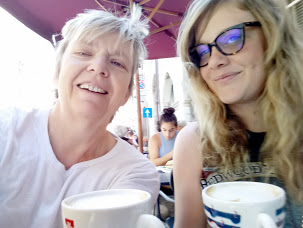 Claire and Heidi on her visit in Italy after Mark's death