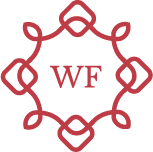 BLOG – CONVERSATIONS THAT MATTER
Conscious Ageing and the IEC Conference in Hungary
HEIDI & MARK AT THE IEC CONFERENCE
It is today that the Integral European Conference (IEC) ends in Siofok at Lake Balaton in Hungary, and tomorrow the "Magical Tour" through Hungary starts which brings people to exquisite selected places and experiences in that country for three days.
It is a wonderful experience, the conference itself and the tour. People who meet there are different, the contents are different, the atmosphere is different than on every other conference or group event I have ever been so far. Mark and I went to Hungary every time since 2014, to be there and to bring our contributions.
In the last conference Mark (and I) spoke about "CONSCIOUS AGEING".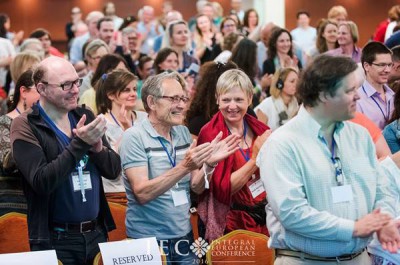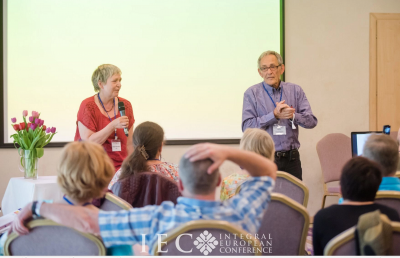 WHAT WE DID AFTER THE LAST CONFERENCE
After the conference we started our broadcast series CONSCIOUS AGEING. We organized about 40 conversations about "Conscious Ageing" from many perspectives and, this time in Hungary we wanted to talk to you about this initiative, about who the participants were, what topics came up and how, overall,  it went. We also wanted to extend the invitation to you to be our guest in the next season of broadcasts, planned for autumn 2018.
After 4+ weeks of hoping that we would be able to come to the conference, we decide that we cannot participate due to Mark's state of health. The initial weakness and coughing has revealed itself as metastasising lung cancer.
We are now called to walk our talk, to make treasure of what we learned from our guests and to face the challenge in a conscious and 2nd tier way. So far we are good and we pray that we won't lose our humour and love even if things proceed in a way which puts an end to our relationship as human beings on earth.
We would like to ask you to include us in your meditations and prayers and, if you see a possibility, to come and see us in Paradiso Integrale in Italy,  live or via internet to stay in contact and exchange "knowledge, experience and wisdom" – the slogan of our Wisdom Factory events.
OUR GREETINGS TO HUNGARY FOR 2018
OUR TALK IN HUNGARY IN 2016